New education programme launched to combat online piracy
Government welcomes Creative Content UK which will warn internet users whose connections are being used to illegally share films and music.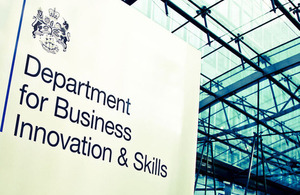 Government today (19 July 2014) welcomed a new industry scheme, Creative Content UK, which will promote legal entertainment online and warn internet users whose connections are being used to illegally share films and music.
Business Secretary Vince Cable and Culture Secretary Sajid Javid revealed the UK's creative industries and internet service providers (ISPs) have agreed the joint scheme. This will aim to raise awareness of copyright by informing those whose internet connections have been used to illegally share copyright material and help them find compelling, legal alternatives.
The cabinet ministers also revealed the scheme would be supported by a joint creative industry and government 3-year education campaign towards which the government is contributing £3.5 million.
The campaign will help to reduce online copyright infringement, raise awareness of the benefits that copyright brings and promote the use of legal digital content.
This new initiative follows a similar partnership between the movie and music industries and ISPs in the United States. The Center for Copyright Information was established to help direct consumers to the growing array of legitimate online creative content and send out alerts to ISP subscriber accounts that have been used to illegally share films and music.
Speaking at the Spotify offices in London, Vince Cable and Sajid Javid outlined the importance of tackling infringement and intellectual property crime and working together with businesses to crack down on online piracy which is estimated to cost the global music industry alone more than £7 billion.
Business Secretary Vince Cable said:
The creative industries in the UK are one of our brilliant global success stories. We have unrivalled creativity – from record breaking musicians to box office films – that excite and inspire people all over the world. Yet too often that content is open to abuse by some who don't play by the rules.

That is why we are working with industry to ensure that intellectual property rights are understood and respected. Education is at the heart of this drive so people understand that piracy isn't a victimless crime - but actually causes business to fail, harms the industry and costs jobs.
Culture Secretary Sajid Javid said:
Copyright is one of the foundations the UK economy is built on. Our creative industries contribute £8 million to the UK economy every hour and we must ensure these businesses can protect their investments.

The alert programme shows industry working together to develop solutions to this threat to our creative industries. It will play a central role in raising awareness of copyright and pointing people toward legal ways to access content, and I welcome this effort.
Commenting on the announcement of the programme, Chris Marcich, President and Managing Director EMEA of the Motion Picture Association (MPA) said:
It is fantastic that the UK creative community and ISPs have come together in partnership to address online copyright infringement and raise awareness about the multitude of legitimate online services available to consumers. We are also grateful to the UK Government for backing this important new initiative. This is just one piece of the overall approach to tackling illegal online infringement and promoting the importance of copyright. This will enable consumers to receive the best possible user experience and sustains the UK's creative community and economy, incentivising the creation of new movies and other creative content.
Geoff Taylor, Chief Executive of the BPI said:
It's a wonderful time to be a music fan - you can listen to almost any song ever released, instantly, wherever you are. But not everyone is familiar with all the different ways to do this - whether for free or from a paid service - while at the same time making sure the artist is also fairly rewarded. This landmark initiative marks the first time that entertainment companies, broadband providers and the government have come together in a major campaign to engage consumers through their passion for music, film, TV and other content and to support them in enjoying it safely and legally online. It should mark a real step forward for digital entertainment in the UK.
The creative industries sector contributes £71.4 billion towards the UK economy and is estimated to support around 1.68 million jobs.
Notes to Editors
Creative Content UK is an industry-led initiative that aims to send millions of educational notices to those detected by copyright owners infringing via unlawful peer-to-peer file-sharing.
The education programme is being funded jointly by the Department for Business, Innovation and Skills, the Department for Culture, Media and Sport and the Intellectual Property Office.
The following organisations have signed a memorandum of understanding that will underpin the programme announced today: Motion Picture Association, British Record Music Industry (BPI), Sky, British Telecom, TalkTalk, Virgin Media.
A study commissioned by Ofcom, undertaken by Kantar Media and made possible by financial support from the UK Intellectual Property Office (IPO) can be accessed at 'Online copyright research'.
Published 19 July 2014