Press release
New director appointments to the NHS Commissioning Board
Lord Adebowale, Margaret Casely-Hayford, Dame Moira Gibb and Naguib Kheraj have today been confirmed as four new Non-Executive Directors of the NHS Commissioning Board.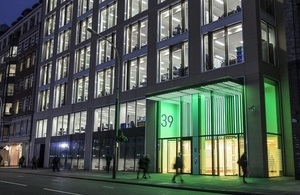 Health Secretary Andrew Lansley said:
"I am delighted to announce these new appointments to the NHS Commissioning Board. All of them have a track record of success and will bring a diverse range of skills and experience to the Board. Their expertise will benefit the NHS and help ensure that patients get the high quality care that they deserve."
Professor Malcolm Grant, Chair of the NHS Commissioning Board said:
"These are appointments of the highest quality, and they bring to the NHS a wealth of experience and expertise from a wide range of backgrounds.  I am pleased that we now have a full group of non-executive directors, with complementary strengths and skills, to work alongside the executive team led by Sir David Nicholson."
The appointments will be in the first instance to the NHS Commissioning Board Special Health Authority, which was established on 31 October 2011. Its role is to make all the necessary preparations for the successful establishment and operation of the NHS Commissioning Board in October 2012 before it takes on full statutory responsibilities in April 2013.
The NHS Commissioning Board's central role will be to drive improvement in results for patients, ensuring a fair and comprehensive service across the country. It will promote the NHS Constitution and champion the interests of patients, using choice and information to empower people to improve services.
Accountable to the Secretary of State via an annual mandate the NHS Commissioning Board is an independent statutory body, free to determine its own organizational shape, structure and ways of working.
The Secretary of State will remain responsible jointly with the Commissioning Board for promoting a comprehensive health service; and retains the ultimate accountability for securing the provision of services through his relationship with NHS bodies.
The new Non-Executives will take up their appointments to the NHS Commissioning Board Authority on 1 July 2012.
Notes to editors
  
1. For media enquiries please ring the NHS Commissioning Board Authority press office on 0113 254 5142.
2. Margaret Casely-Hayford is currently Director of Legal Services and Company Secretary, John Lewis Partnership plc and Board member, British Retail Consortium. She has previously been a Trustee and Special Trustee of Geffrye Museum and of Great Ormond Street Hospital Charity.
3. Dame Moira Gibb is currently a Civil Service Commissioner and until December 2011 was Chief Executive of the London Borough of Camden. She is also Chair of the Social Work Reform Board on behalf of Department of Education and Department of Health and Board Member of UK Statistics Authority. She has previously been President of the Association of Directors of Social Services and a member of the NHS Future Forum.
4. Mr Naguib Kheraj is currently Vice Chairman of Barclays Bank Plc, Member of the Investment Committee of the Welcome Trust, Member of the Board of Trustees of the Aga Khan University and Chair of Aga Khan Foundation (UK) National Committee. He is also a Member of the Board of Commissioners, UK-US Fulbright Commission and Member of the Board of Governors at The Institute of Ismaili Studies.
5. Lord Adebowale is currently Chief Executive and company secretary of Turning Point. He is a  Cross Bench peer and Non-Executive Director at the Audit Commission. He is President of the Community Practitioners and Health Visitors Association (CPHVA) and a Patron of Social Enterprise UK. He is also a Commissioner for the UK Commission for Employment and Skills and a member of the NHS Future Forum. His previous roles include being the Chief Executive at Centre Point, the youth homelessness charity.
6. These appointments are made in accordance with the Code of Practice for Ministerial Appointments to Public Bodies, issued by the Commissioner for Public Appointments.  All appointments are made on merit and political activity played no part in the selection process. However, in accordance with the original Nolan recommendations, there is a requirement for appointees' political activity (if any declared) to be made public.
Lord Adebowale is a Cross Bench Peer of the House of Lords. Mr Naguib Kheraj has been a donor to the Conservative Party.Ms Casely-Hayford and Dame Moira Gibb declared no political activity.
 7. Lord Adebowale and Dame Moira Gibb will be appointed until 31st December 2014.  Mr Naguib Kheraj and Ms Casely-Hayford will be appointed until 30th June 2016.  All appointments will receive remuneration of £7,883 for a time commitment of around two days a month.
8. For further information on the NHS Commissioning Board Authority visit the website. 
9. For further information on the process for managing public appointments visit the website.
Published 18 June 2012