News story
New deal to help businesses bounce back from Ebola in Sierra Leone
The UK has backed a deal to help businesses in Sierra Leone who have been hit hard by the economic impact of the Ebola outbreak.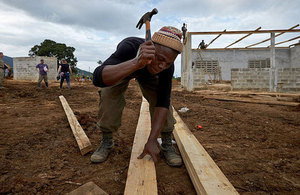 The new deal will provide promising, medium-sized businesses the finance they need to expand – helping to create more jobs and kick-start growth in the country.
Under the deal, Standard Chartered Bank and CDC – the UK's Development Finance Institution – will make up to $50 million (£33 million) of short-term loans or overdrafts available to businesses that are struggling to get the finance they need to grow.
Britain's CDC will share 50% of the risk of new short-term loans and overdrafts provided by Standard Chartered to help facilitate the deal.
International Development Secretary Justine Greening said:
The UK has been at the forefront of the international effort to combat Ebola. As we start to get on top of the disease we must also help rebuild the country's economy.
Business and private enterprise are crucial to help Sierra Leone recover the rapid growth rates it was experiencing only a year ago. This new agreement will ensure businesses get the finance they need to grow and create more jobs.
Sierra Leone can be one of the emerging markets of tomorrow and we all have interest in helping it back to the path of prosperity.
Economic growth in Sierra Leone is slowing as a result of the Ebola crisis. Gross Domestic Product (GDP) was expected to be 11.3% in 2014. It has since been revised down to 4%.
Furthermore, shortages of food caused by farmers leaving their fields, disruption to supply chains due to travel restrictions and reduced production in the agriculture and mining sectors has meant that many businesses do not have the working capital they need to carry out day-to-day operations, including paying their employees on time.
The new support is likely to assist Sierra Leonean businesses providing key supplies such as rice, flour, cooking oil, sugar, building materials, hygiene and petroleum products – many of which are critical to Ebola relief efforts.
CDC Chief Executive Diana Noble said:
The exceptional circumstances presented by the Ebola crisis require a unique response from the international community – both in terms of humanitarian efforts and economic support.
Standard Chartered is a trusted partner with an excellent network and understanding of the market in Sierra Leone. By working together in a risk-sharing deal we can support the working capital needs of businesses whose survival and growth is vital to the country's economic health.
Standard Chartered's Diana Layfield said:
Mid-sized companies are essential engines of economic growth, so supporting them is key to limiting the economic impact of the Ebola crisis.
By joining with an experienced and broad-reaching organisation such as CDC to address their short-term financing needs, we hope to help these businesses to continue to operate, and power Sierra Leone's economy through these challenging times.
Earlier this week, Development Secretary Justine Greening called on the private sector to help Sierra Leone combat Ebola and regain the stellar growth rates it experienced prior to the outbreak.
She highlighted a number of important actions and activities that the private sector can undertake to help Sierra Leone and other countries hit by Ebola recover, including:
Providing better access to finance for entrepreneurs: the new deal with Standard Chartered and CDC is a pioneering example of how the private sector can support wealth creators across the country.
Investment opportunities: Sierra Leone has significant long term investment opportunities, especially in the minerals and agri-business sector. However the Ebola crisis has deterred investors and even countries like Kenya which have not been affected by Ebola have had their growth estimates have been revised downwards.
Investing in development and major infrastructure: this will help speed up recovery by creating jobs and make the region more resilient in the long-term, helping end dependency on aid and better prepared for humanitarian crises.
Find out more about the UK's response to Ebola at: www.gov.uk/ebola
Published 6 February 2015