News story
New credit union service launched for the Armed Forces
Service Personnel will be able to use using safe and sustainable finance with the new credit union service launched today.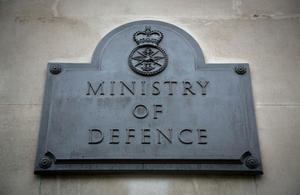 A credit union has been launched to support Armed Forces personnel access safe and affordable finance, Defence Secretary Michael Fallon announced today.
Defence Secretary Michael Fallon said:
The Government's commitment to the Covenant remains unshakeable.

Today we go even further by launching a credit union for our Armed Forces personnel.

By paying a regular amount from their salary directly into the credit union, they will be able to avoid the struggle for credit approval and the siren call of the payday lenders.
The launch of credit union services for serving Armed Forces personnel will offer them an easy alternative to banks, building societies and payday lenders. It will increase the choice available for savings and loan facilities.
In the past, some personnel have struggled to get credit approved, partly due to moving regularly and not being able to build up a good credit rating. Some troops have also been targeted by payday loan companies.
Armed Forces personnel will now be able to save with, and pay off loans from, the credit union through 'payroll deduction'. The payment will come directly from an individual's salary or pension at source.
Minister for Defence Personnel and Veterans, Mark Lancaster, said:
I'm delighted that credit union services will today be available to Armed Forces personnel. It is crucial that those service people who work so hard to keep Britain safe, both at home and abroad, can access easy and affordable ways to save and borrow.

This helps to tackle an issue that has caused disadvantage and disappointment to some service members.
HM Treasury announced in March that the Government would provide £500K from non-MOD LIBOR funds to help Armed Forces personnel access credit union services. This is being spent on developing the system to allow payroll deductions for credit union payments by service personnel and those in receipt of a pension, and on the staffing required by DBS sub-contractors to handle those processes.
Economic Secretary to the Treasury Harriett Baldwin said:
I am delighted that armed forces personnel will now be able to save with credit unions directly from their salary or pension.

Military personnel have long faced difficulties accessing credit due to the mobile lifestyles required by their jobs, and it is right that we use bank fines collected from those who've demonstrated the worst of values to support these military personnel who have served their country and shown the best of British values.
The three credit unions, PlaneSaver Credit Union, Police Credit Union and London Mutual Credit Union, will work collaboratively to offer the best service for personnel.
Providing access to credit unions complements existing financial support for the military. The MoneyForce programme, launched in March 2013, gives financial education and awareness to service personnel, combined with accessible online support for the entire Armed Forces community via MoneyForce.com.
Today's launch of the credit union builds on the MODs work under its commitment to the Armed Forces Covenant. Credit unions are owned by their members. This means they can offer competitive rates of interest on savings and loan products, as there are no third-party shareholders to whom profits must be distributed. Credit unions are also able to offer safe and sustainable loans to their members, and deposits are protected by the Financial Services Compensation Scheme.
Published 15 October 2015