Press release
New communications approach to deliver better campaigns and target wasted spend
Streamlined agency list for government communications will deliver effective campaigns and value for taxpayers.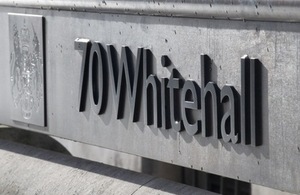 CAB 033-13
The Cabinet Office has announced details of a centralised approach to government communications that could save around £3 million a year. The new Creative Solutions Framework will streamline communications, strengthening government dialogue with citizens by delivering more effective, value for money campaigns.
Government departments and organisations across the public sector will use the framework, managed by Government Procurement Service to access communications agencies providing creative services, direct marketing (including contact centre services frameworks), digital marketing and PR services.
Download Creative Solutions framework suppliers (PDF, 188KB, 2 pages)
The new framework consolidates the government's buying power, replacing 9 previous frameworks with estimated savings of approximately £3 million per annum.
This centralised model for government communications will encourage more meaningful and productive relationships with suppliers – 80% of agencies on previous lists received no business during 2011 to 2012. This reduced supply base will enable government to work strategically with suppliers – sharing evaluation, expertise and ideas across campaigns and departments.
Alex Aiken, Executive Director for Government Communications said:
Over the last decade taxpayers' money was all too often splurged on expensive, unnecessary marketing and advertising campaigns. Our strong controls on marketing spend have already helped save £390 million in 2011 to 2012 and £400 million in 2010 to 2011, and using our buying power to reorganise our approach to communications means we will save around £3 million a year. People should feel reassured that this new framework means that where we do spend money on communicating with them, it will only be where it is judged effective and efficient.
The framework award will be for a term of two years as stated in the Official Journal of the European Union (OJEU) with the option to extend for a further period of two years. The value stated in the OJEU is indicative of the potential spend through the framework. The procurement was conducted in line with EU regulations and provides a fully compliant procurement route for the public sector to access creative solutions.
Communications specialists within government departments worked closely with GPS to develop the new centralised model. These specialists also led the evaluation of the bids to ensure impactful campaigns could be delivered in a cost-effective way.
Alex Aiken adds:
We are determined to maintain our ability to reach people through the channels they use most – and we are adamant that our campaigns will retain the imagination, creativity and ingenuity required to communicate with all the vast and varied audiences government must engage. This framework features a strong list of established, award-winning agencies and new talent emerging from the creative landscape. It will be better for government communicators, better for our creative partners – who can feel more confident that they will actually work on government business – and better for the taxpayer.
Last month, suppliers who participated in this procurement were notified of the outcome of their bids. The full list is now being published following the completion of the formal standstill period which concludes the procurement process. That list represents a broad mix of agencies, and 14 of the 27 suppliers on the framework are small and medium enterprises (SMEs). Further opportunities will be created where there is requirement for more specialist support as framework suppliers will be able to acquire this expertise from within their own supply chain.
Notes to editors
Further information for agencies
Visit the Government Procurement Service for further information.
You can contact the Cabinet Office press office on 0207 276 3811.
Published 22 March 2013