Press release
New commissioning guidance for addiction to medicines
New guidance states NHS and local authorities are to provide support for people addicted to prescription or over-the-counter medicines.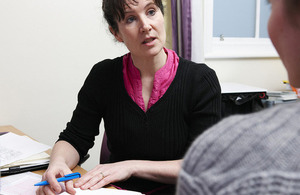 New commissioning guidance for the NHS and local authorities on how to respond to the needs of people who are addicted to medicines is published today by Public Health England (PHE). The guidance sets out PHE's expectation that support should be available in every area for people with a dependency on prescription or over-the-counter medicines, based on a full assessment of local need.
Under the recent health reforms, local authorities, working closely with the NHS and other health partners, are responsible for building an understanding of what treatment responses are required in their area and ensuring that the right support is in place.
The guidance has been produced with input from experts on addiction to medicines. It outlines a number of sources that commissioners can use to identify the scale of misuse or dependence, and in relation to what medicines, in their area. It emphasises that all these checks – such as finding out about GP prescribing patterns, and speaking to those with first-hand experience of addiction to medicines – are important to understand fully what services are needed.
Depending on local needs and circumstances, the response may be developed with local GPs, delivered via existing services that deal with a range of drug and alcohol issues, or may be provided or complemented by separate, dedicated addiction to medicines services and support groups.
Parliamentary Under Secretary of State for Public Health Anna Soubry said:
We want to tackle addiction to medicines and the harm it causes to people.

We know this is a complicated issue which we are determined to get right – which is why this guidance will be vital in helping local areas commission appropriate services and help people recover.
PHE Director of Alcohol and Drugs Rosanna O'Connor said:
Problems of addiction to medicines can occur in any community, so all local authorities should have a plan to assess and respond to local need, working with other local health agencies. While GPs should be the first port of call for problems of dependence on these drugs, specialist help should also be provided to anyone who needs it. This guidance raises the bar for commissioners to improve the ability of local areas to respond to this problem, and PHE will support them in this role.
Dr Clare Gerada, Chair of the Royal College of GPs said:
GPs are well-placed to offer advice and support to patients with addiction to medicine and have been at the forefront of initiatives to prevent and reduce this problem.

The College welcomes this practical guidance for commissioners to identify patients who are addicted to medicines and to support GPs in providing the right care for them. We look forward to working with Public Health England and others to make further progress in combatting this problem.
The Government's 2010 Drug Strategy states that suitable local responses should be available for dependence on all drugs, including prescription and over-the-counter medicines. This new guidance gives a clear message on the support that people who have problems with these medicines are entitled to expect.
Notes to editors
The guidance states that health and public health commissioners will want to ensure that locally appropriate responses are available for problems with a full range of prescribed and OTC medicines, including, but not limited to:

Benzodiazepines and z-drugs, prescribed mainly for anxiety (benzodiazepines only) and insomnia
Opioid and some other pain medicines, both prescribed and bought over-the-counter
Stimulants, prescribed for ADHD or slimming
Some OTC cough and cold medicines, and anti-histamines and stimulants.

Public Health England is a new executive agency of the Department of Health that took up its full responsibilities on 1 April, 2013. PHE will work with national and local government, industry and the NHS to protect and improve the nation's health and support healthier choices and will be addressing inequalities by focusing on removing barriers to good health. To find out more visit our website www.gov.uk/phe, follow us on Twitter @PHE_uk.
PHE Alcohol and drugs press office
6th Floor, Skipton House, 80 London Rd
London
SE1 6LH
Telephone 020 7972 1904
Out of hours telephone 0208 200 4400
Published 28 June 2013