Press release
New commercial model for the Vehicle Certification Agency
Next stage of the Vehicle Certification Agency new commercial model announced.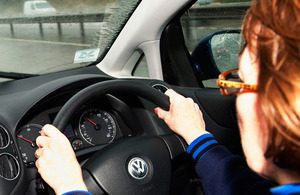 The next stage in the government's project to establish a new commercial business model for the Vehicle Certification Agency (VCA) was announced by Roads Minister Stephen Hammond today (11 July 2013).
The Department for Transport has committed to looking at how it could enable VCA - the UK's type approval authority - to grow and contribute to the wider economy, while continuing to provide a high quality and trusted service.
Stephen Hammond said:
I am pleased to announce the next phase of the project to explore a new commercial model for the VCA.

All government departments have been challenged to think about how they can be more innovative in the way they commission and deliver services. We have examined the VCA business model and tested a range of options to enable the business to grow and contribute to the wider economy whilst continuing to deliver its statutory functions and providing a high quality service to customers.

The new commercial model should also offer new opportunities to VCA staff, who are essential to the continued success of the business in the long term.
The Department for Transport first set out this proposition for consultation in the 'Motoring services strategy' in December last year. The department is now going to start a market engagement exercise to further test the preferred option of a joint venture with a private sector partner. A decision is expected in the autumn on whether to proceed with a formal procurement.
Notes to editors
The July 2011 Open public services white paper and the June 2012 Civil service reform plan challenged departments to think about how they commission and deliver services with a view to looking at innovative options.
The 'Department for Transport corporate plan 2012-2013' included a commitment to "transform delivery of the motoring services we provide by reducing costs, increasing the customer focus, and increasing the diversity of delivery whilst maintaining quality and customer satisfaction".
The Department for Transport Motoring services strategy of December 2012 included a commitment to assess how it could enable the VCA to grow and contribute to the wider economy, whilst continuing to provide a high quality and trusted service which is recognised for its integrity.
A Prior information notice (PIN) is being published to advertise the DfT's intention to engage with the market over its plans to develop a new commercial model for the VCA.
The Vehicle Certification Agency is an executive agency of the Department for Transport. It has been supporting the automotive industry since the early 1970s.
Its primary function is to discharge statutory obligations relating to testing and approving vehicle standards that rest on member States under EU law. All EU member States must establish or appoint a type approval authority. This means that VCA has to compete for business with type approval authorities from the other EU member States. Its potential customers (eg manufacturers of all road-going vehicles, including cars, trucks, motorcycles, agricultural vehicles, buses, coaches, ambulances, fire engines, caravans, trailers and special vehicles) can seek approval from any member State in order to trade and sell approved vehicles across the EU and in wider global markets.
VCA's main customers include major vehicle manufacturers with manufacturing plants in the UK, but it also supports SMEs (eg trailer manufacturers). As well as having offices in the UK, it operates in North America, Japan, Korea, China, Italy, Malaysia, India and Australia. It is currently in the process of setting up a new office in Brazil. The VCA's presence in these countries benefits UK business by cutting the time for manufacturers and distributors to supply safe and environmentally compliant products to the market place.
VCA is almost entirely funded by its commercial customers with only a small amount of government funding. It employs around 180 staff worldwide and has income of about £15 million per annum. It operates with a planned small annual surplus expected to be £150,000 to £200,000 for 2012/13.
Roads media enquiries
Press enquiries 020 7944 3021
Out of hours 020 7944 4292
Switchboard 0300 330 3000
Published 11 July 2013