Press release
New Chairman of the Water Services Regulation Authority (Ofwat) announced
Jonson Cox will take up the role as designate on 1 October 2012 and will then assume full responsibility on 1 November 2012.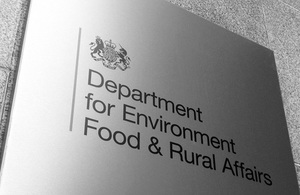 Following an open competition the Secretary of State, Owen Paterson, has confirmed that Jonson Cox has been appointed as the new Non-Executive Chairman of the Water Services Regulation Authority (Ofwat).
Owen Paterson said:
"I am delighted to appoint Jonson Cox as the new Chairman of Ofwat.  Jonson's broad ranging experience, in the water sector and elsewhere, will be invaluable.  This is an important time for the water sector, with the challenge of ensuring customers continue to get a fair deal and high standards of service and of building resilience for the future.  I look forward to working with Jonson as he leads Ofwat's Board into the next price review and tackles these issues.
"I would also like to record my gratitude to Philip Fletcher for his leadership of Ofwat during these past 12 years; firstly as its final Director-General and then as its inaugural Chairman."
Jonson Cox said:
"The water industry in England and Wales provides a vital and essential public service.  I look forward as Chairman to playing my part in ensuring that Ofwat provides effective and progressive economic regulation of the sector, and in these difficult times, that customers get the best possible deal."  
Notes
Ofwat is the independent economic regulator of the water and sewerage sector in England and Wales.  Its main responsibility is to make sure that the companies provide households and business consumers with a quality service and value for money.  For more information go to:  www.ofwat.gov.uk.
The appointment is for three years, until 31 October 2015 and, includes the possibility of an additional two year extension and further reappointment on similar terms.  The non-executive appointment attracts a remuneration package of £100,000 per annum_._
The EFRA Select Committee held a pre-appointment hearing with Jonson Cox and published its report on 6 July.  In which they concluded they were "satisfied that Mr Jonson Cox has the professional competence and personal independence required for the post of chair…"
The post of Ofwat Chairman is a non-executive post.  Jonson Cox has had a broad ranging career across a range of industries including Royal Dutch Shell, eight years with Kelda Group plc (owner of Yorkshire Water) and over six years as CEO at Anglian Water Group Plc.  Other posts include Chairman at UK Coal Plc since late 2010 and he will continue to serve in this role.  Jonson Cox is also Ofwat's Water Sector Innovation Leadership Group's Independent Chairman and Non-Executive Director at Wincanton Plc.
These appointments to the Ofwat Board are covered by the Commissioner for Public Appointments and are conducted within the principles of the Commissioner's Code of Practice.
All appointments are made on merit and political activity plays no part in the selection process.  However, in accordance with the original Nolan recommendations, there is a requirement for appointees' political activity (if any declared) to be made public.  As part of appointment process Jonson Cox completed a political activity questionnaire and did not declare any political activity.
Published 28 September 2012