Press release
New chairman for Land Registry
Michael Mire has been appointed as the new chairman of the Land Registry.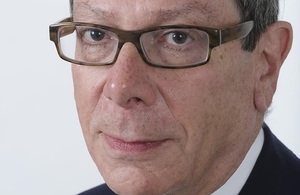 The Business Secretary Greg Clark has appointed Michael Mire as the new chairman of Land Registry. The agency maintains the register of ownership of land and property containing more than 24 million titles.
Previously a senior partner at McKinsey & Company, where he focused on financial services, retailing and transformation programmes, Michael will take up his role on 8 August 2016 and his term will run for 3 years.
Michael is currently a non-executive director of the Care Quality Commission. He is also on the board of Aviva plc and is a senior adviser to Lazard, the investment bank.
Business Minister Margot James said:
I am pleased to announce Michael Mire as the next chair of Land Registry. Michael will bring a wealth of experience from both the private and public sectors and I look forward to working with him.

I would also like to thank Mark Boyle for his work as the first ever chair of Land Registry and wish him every success for the future.
Michael Mire said:
I am privileged to take up the role of chair of Land Registry at such an important time in its long and distinguished history. I look forward to leading the board and ensuring that the organisation continues to deliver on its objectives.
Notes for editors
The chair of Land Registry is a public appointment made by the Secretary of State for Business, Energy and Industrial Strategy. It follows an open competition.
Mark Boyle, the current non-executive chair, stood down in April 2016, after 4 and a half years in the role. He was at the end of his tenure as non-executive chair.
As a non-ministerial department established in 1862, executive agency and trading fund responsible to the Secretary of State for Business, Energy and Industrial Strategy, Land Registry keeps and maintains the Land Register for England and Wales. The Land Register has been an open document since 1990.
The Land Registry facilitates one of the most active property and mortgage markets in the world. More than 86% of the land mass of England and Wales is registered, adding up to more than 13.2 million hectares. More than 24 million titles are recorded in the Land Register.
The government is currently considering responses to its consultation to move the operations of the Land Registry into the private sector.
For further information visit Land Registry.
Published 5 August 2016