Press release
New cattle measures to help deliver TB freedom in England
Further measures to protect England from bovine TB are being introduced as part of the government's comprehensive strategy which is on track to deliver TB-free status for over half of the country by 2019.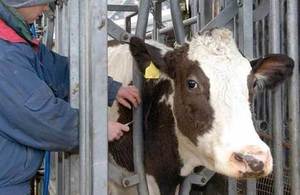 From 6 April 2016, new legislation will require farmers in the Low Risk Area of England to arrange for post-movement testing of cattle coming from the rest of England and from Wales.
With more than half of new bovine TB infections in the Low Risk Area clearly linked to cattle purchased from higher risk areas, introduction of compulsory post-movement testing will provide greater confidence that the Low Risk Area can become and remain officially TB-free.
Following consultation last year, three additional measures will also be introduced at the same time:
Commenting on the new measures Farming Minister George Eustice said:
We are presiding over a huge collective effort to eradicate bovine TB in England.

Our comprehensive strategy is clear: the disease can only be defeated by taking coordinated action on cattle movements, cattle testing and badger control.

The cattle measures we are introducing in April will help protect against cattle-to-cattle transmission and bring the Low Risk Area closer to achieving TB freedom.
The introduction of new measures takes place as the Government eradication strategy enters its third year of full implementation. This includes tighter cattle measures, improved biosecurity and badger control in areas where the disease is rife.
The approach of dealing with the disease in cattle and wildlife has worked overseas and is supported by the Government and Defra chief scientists, the Chief Veterinary Officer and leading vets.
Earlier this year, Environment Secretary Elizabeth Truss announced £1 million of funding will be made available for a new bovine TB advisory service which will provide high quality and tailored advice on improving biosecurity for farmers in the High Risk and Edge Areas.
Defra continues to work with the AHDB, the NFU, BCVA, Landex and the Welsh Government to encourage livestock keepers to take precautions to protect their herds on farm and in the cattle trade. Detailed advice to farmers and vets is available from www.tbhub.co.uk
Published 10 March 2016