News story
New cardiovascular disease profiles published
These profiles aim to help the NHS and local authorities understand more about these conditions in their communities.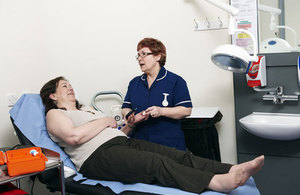 Public Health England's (PHE) National Cardiovascular Intelligence Network (NCVIN) published its first cardiovascular disease profiles for each of the 211 clinical commissioning groups (CCGs) in England today (5 August 2014). The profiles highlight important facts about these conditions and include information on the leading risk factors such as smoking and obesity.
Following the recommendations of the Cardiovascular Disease Outcomes Strategy to treat coronary heart disease, diabetes, kidney disease and stroke as a single family of conditions, the profiles bring together information about each of these.
Cardiovascular disease is the biggest killer of adults after cancer and is a common reason to premature death. Over recent decades much has already been achieved in reducing the number of people dying from these conditions but many people still experience a reduced quality of life as a result or die prematurely. In 2012 it was recorded that 33,258 people died from heart disease, stroke or vascular disease under the age of 75 years. By using these profiles local areas can identify opportunities for further improvement, building on their success to date while planning to tackle emerging issues such as an aging population and increased levels of obesity.
In coming weeks, as well as the profiles PHE will release an interactive version of the data which allows CCGs to compare themselves with others, including those in their strategic clinical network (SCN). The interactive version of the data will be available in PHE's Fingertip tool.
The NCVIN is 1 of 5 intelligence networks, with others looking at cancer, mental health dementia and neurology, child and maternal health and end of life. Hosted by PHE, the networks operate across organisations including NHS England, the National Institute for Health and Care Excellence (NICE), local authorities, charities, academic institutions and others. Their aim is to encourage the use of data and information to improve the quality of care and outcomes for communities, patients and their families.
Visit PHE's data and knowledge gateway to access data and analysis tools from across the organisation.
Published 5 August 2014