Press release
New Broadband Chief as final 5% of most remote areas in Britain tackled
New £10m pot to pilot alternative broadband technologies as focus switches to help most remote areas.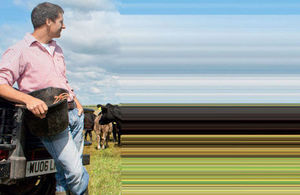 A £10 million fund will be available to alternative technology providers who come forward with innovative ideas to help superfast broadband reach Britain's most remote communities the Culture Secretary, Maria Miller, announced today. The announcement coincides with the appointment of a new Broadband Chief Exec, Chris Townsend, who helped to deliver the hugely successful London 2012 Games. He will take on delivery of the whole Broadband Delivery programme including the fund announced today.
A key part of Government's long-term economic plan to secure Britain's future by providing better infrastructure, the government's ambitious broadband programme is already on track to deliver superfast speeds to 95% of the UK by 2017. The programme is well underway and current progress is exceeding expectations, so now the focus is shifting to the hardest and most remote five per cent of premises in Britain.
Digital fast lane
By March 2014 , the new £10 million fund will enable a range of pilot projects to be undertaken up and down the country, as the Government seeks the most effective way to ensure that the most remote areas are included in the broadband transformation taking place across Britain.
Superfast broadband is vital for businesses, homes and families, whether it be for online shopping, doing homework or working from home, this money will help ensure that people are not left living in the 'digital slow lane' simply because of their post code.
Potential technologies that could be piloted under the new fund for remote areas include:
Using 4G mobile signal to deliver 'fixed wireless' superfast broadband'.
Using fibre direct to premises.
Taking fibre from broadband cabinets to a distribution point further down the network, increasing speeds by reducing the reliance on copper.
Satellite technology.
The fund will open on 17 March 2014 and we are asking local authorities to offer support to these pilot projects.
New Chief Executive
Secretary for State for Culture, Media and Sport, Maria Miller said:
I am delighted to welcome Chris Townsend to the team and know that his experience from the Olympics will be invaluable.

Our nationwide rollout of superfast broadband will benefit everyone from school children to business owners, parents to patients. An estimated 10,000 homes and businesses are gaining access to superfast speeds every week but now we need to focus on the hardest to reach communities.

If we want to ensure that that all communities can benefit then we need to think imaginatively about alternative technology, and the pilots enabled by the £10m fund will be instrumental in helping us overcome the challenges of reaching the final 5% of premises.
Chris Townsend, Chief Exec of BDUK said:
" Ensuring that broadband can reach businesses and consumers across the country is one of the most important policies in Government. Faster connections will improve the way people live, work and spend their leisure time. I look forward to starting my new role as chief executive of BDUK and building on the good work being done to get superfast broadband to people all over the UK."
Find out what else the government is doing to support and grow the UK economy
Notes to Editors:
Government is making £10m available to fund projects that will provide answers to several key questions including identifying which technologies will be most cost effective and commercially in reaching the final five per cent of premises, and determining what public / private funding models will be effective at financing investment.

Suppliers will be able to bid for funding and will need to provide a description of their proposed project, including the costs and the outputs. BDUK will evaluate proposals on the basis of criteria such as the quality and prospect of solutions able to scale to address the final 5%, for the timeliness and usefulness of the learning that the projects provide, and the level of funding requested.

Chris Townsend was the Commercial Director of the London Organising Committee of the Olympic and Paralympic Games. He secured £2.4bn funding and saw record breaking International and UK sales of 11m Olympic and Paralympic tickets. He was awarded an OBE in the 2012 New Year Honours. Before this Chris was the Group Marketing Director at Transport for London and worked as a Marketing Director for BSkyB for many years.

For every £1 the Government is investing in broadband, the UK economy will benefit by £20. Read the latest report on the benefits of broadband

Superfast Britain is a Government programme of investment in broadband and communication infrastructure across the UK. Run by the Department for Culture, Media and Sport, this investment helps businesses to grow, creates jobs and will make Britain more competitive in the global race. The portfolio is comprised of three elements:
£780m to extend superfast broadband to 95% of the UK by 2017
£150m to provide high speed broadband to businesses in 22 cities
£150m to improve quality and coverage of mobile phone and basic data network services
Administered on behalf of Government by Broadband Delivery UK (BDUK), Superfast Britain is transforming Britain by promoting growth, enabling skills and learning, and improving quality of life.
For further information: https://www.gov.uk/broadband-delivery-uk
Press Enquiries: 020 7211 6145 Public Enquiries: 020 7211 6000 Out of hours telephone pager no: 07699 751153
Published 15 January 2014