Press release
New bill of rights to help businesses and consumers
Measures to enhance consumer rights and make them easier to understand have been unveiled today by Consumer Minister Jo Swinson.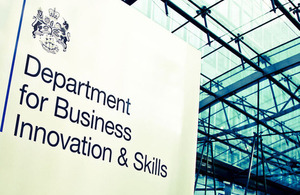 Measures to enhance consumer rights and make them easier to understand, which will boost the economy by £4 billion over the next decade, have been unveiled today by Consumer Minister Jo Swinson.
The proposals, outlined in the draft Consumer Rights Bill, streamline overlapping and complicated areas from eight pieces of legislation into one consumer Bill. They also introduce new rights for consumers and businesses. Currently consumers spend more than 59 million hours a year dealing with goods and services problems. This deregulatory measure will reduce the effort consumers and businesses have to make to resolve problems.
Under the draft Bill consumers will have the right to:
get some money back after one failed repair of faulty goods (or one faulty replacement)
demand that substandard services are redone or failing that get a price reduction
get a repair or a replacement of faulty digital content such as film and music downloads, online games and e-books.
The draft Bill also proposes a set 30 day time period for when consumers can return faulty goods and get a full refund.
The draft Bill will benefit businesses. Many already go well beyond the minimum obligations set out in these proposals. But even the best businesses still have to spend significant time and resource understanding the law and training their staff to apply it, more than they should have to.
Business, consumer groups and enforcement bodies have engaged extensively in developing these proposals and further scrutiny of them is now welcomed to ensure they are as effective as possible.
Consumer Minister Jo Swinson said:
For too long the rules that apply when buying goods and services have been murky for both consumers and businesses. The situation is even worse in relation to digital content.
It is about time consumers knew what their rights are and businesses have clearer information on what is expected of them when problems inevitably do arise. That is why we have put clarity and fairness at the heart of the proposed Consumer Bill of Rights.
We want to make sure consumers are confident about their rights in everyday situations be it their washing machine breaking down or an online game they purchased always crashing. This will also benefit businesses as they are going to spend less time working out their legal obligations when they get complaints from customers.
Which? Executive Director, Richard Lloyd, said:
The new Bill of Rights will bring consumer law into the 21st century at last, making it easier for everyone to know their rights and giving people more power to challenge bad practices. There are many welcome measures in the Bill, including reforming the law on unfair terms and conditions and giving consumers clear rights when digital downloads go wrong. This will be good for consumers and good for bsinesses that try to do the right thing by their customers.
British Retail Consortium Director General, Helen Dickinson said:
The BRC has been pleased to be able to co-operate with consumers, enforcers and the government in the development of the Bill from the beginning.
We broadly welcome the attempt to clarify consumer rights when a product is defective; to introduce a proportionate system of redress for consumer protection issues led by enforcers; and in particular to define a consumer protection regime for digital content for the first time in the absence of a fully harmonised EU approach.
Reputable retailers usually solve problems without the need for legal intervention but this Bill helps to clarify the law.
We look forward to the discussion on the draft and to continuing to work alongside BIS as it undergoes pre-legislative scrutiny.
New measures in the draft Bill that will benefit businesses include:
A new requirement for enforcers such as Trading Standards Officers to give reasonable notice to businesses when carrying out routine inspections, reducing costs to business
Faster and lower cost remedies for businesses who have been disadvantaged from breaches in competition law
A reduction in on going training costs - businesses will spend less time understanding their obligations or considering different scenarios when training staff.
Examples of where the Bill will provide greater clarity include:
Digital content:
You play a 'freemium' computer game and have spent quite a bit of money on in-app purchases to improve your character. You've also earned some points through game play which you also used to build your character. Ever since you last upgraded your character, following an in-app purchase, the game has failed to work properly. You would be entitled to a repair or a replacement because even though the game was "free", the in-app purchase was not working as expected. If a suitable repair or replacement is not possible then you would be entitled to some money back.
Services:
You hire builders to re-do your bathroom. They start the work but there are problems with debris left in other areas of the house and disruptions to your water supply. Even when finished, the work is not what you expected and the shower leaks to the room below. Under the new Consumer Rights Bill, you can require the builders to make good the problems, if they can do so within a reasonable time, or get a price reduction or refund.
Goods:
*You buy a new desk chair, but four weeks later you find that one of the armrests is loose and can't be tightened. Under the Bill, you would have a right to reject the chair within the 30 days and get a full refund.
Notes to editors
1.The draft Consumer Rights Bill will be available from 9.30am at: https://www.gov.uk/government/publications/draft-consumer-rights-bill
2.Consumers will be able to find out more information on the proposals in the draft bill, including examples of how it would affect them through the following microsite: http://discuss.bis.gov.uk/consumerrightsbill
3.The draft Consumer Rights Bill has been published following public consultation in summer and autumn 2012. Government is also publishing the response to the consultations and the impact assessments alongside the draft Bill. The costs and benefits of the measures in the Consumer Rights Bill suite of reforms have been assessed in several impact assessments.
4.The government consultation into consumer rights and consumer enforcement took place in summer and autumn 2012. It looked into measures on:
Goods
Services
Digital Content
Unfair Contract Terms
Consumer Law Enforcement Powers
Civil Remedies
Private Actions in Competition Law
5.If you would like case studies on problems faced by consumers and the way this is dealt with under current consumer legislation please contact James Mole Senior Press Officer, Citizens Advice on 07824 095 489
6.The drive to fundamentally reform consumer rights and make sure consumers are getting a fair deal is part of the wider consumer changes the government has been making over the past year. This includes boosting the role of the Citizens Advice Service as the one stop shop for all consumer enquiries.
7.The government's economic policy objective is to achieve 'strong, sustainable and balanced growth that is more evenly shared across the country and between industries'. It set four ambitions in the 'Plan for Growth' (PDF 1.7MB), published at Budget 2011:
to create the most competitive tax system in the G20
to make the UK the best place in Europe to start, finance and grow a business
to encourage investment and exports as a route to a more balanced economy
to create a more educated workforce that is the most flexible in Europe.
Work is underway across government to achieve these ambitions, including progress on more than 250 measures as part of the Growth Review. Developing an Industrial Strategy gives new impetus to this work by providing businesses, investors and the public with more clarity about the long-term direction in which the government wants the economy to travel.
Published 12 June 2013