News story
New armour research and development centre announced
A new partnership between MOD and industry will develop the UK's first centre of excellence for ceramic armour development.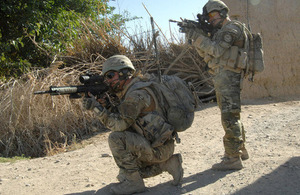 The Defence Science and Technology Laboratory (Dstl) and Kennametal Manufacturing UK Ltd are jointly funding the £2 million facility in Newport, South Wales. The centre will be the largest in Europe and will help to sustain 50 local jobs. It will develop full size ceramic armour components for personnel and vehicle protection, large enough for full scale impact tests.
Specialised manufacturing facilities mean that ideas generated in the development centre can be produced on site in Newport.
Dstl is already working with Tata Steel in Port Talbot to develop advanced steel armour and the Newport development will see South Wales become the UK's centre of advanced military armour technology.
Improved UK-based development and production will also help reduce the reliance on imports of ceramic armour and make it more readily available during the development of any future vehicles or body armour.
Speaking at the DSEI (Defence and Security Equipment International) exhibition in London, the Minister for Defence Equipment, Support and Technology, Philip Dunne, said:
I am pleased that this investment in a state-of-the art facility in South Wales, the largest in Europe, will further advance the United Kingdom's freedom of action in advanced ceramic armour.

This contract is a good example of the Ministry of Defence using its science and technology budget to develop innovation in the UK defence sector.
Professor Peter Brown of Dstl said:
This joint investment is the culmination of 4 years' work. The ability to make ceramic samples large enough for full scale impact tests and the very significant reduction in time taken to produce a sample mean that we can investigate a much wider range of innovative formulations faster and more cheaply than before.
Mike Williams, Kennametal's Managing Director, said:
This is an exciting opportunity for Kennametal Manufacturing UK Ltd to work with MOD and Dstl and also expand its portfolio into the field of high performance ceramic armour products.
Published 11 September 2013