Press release
Negligent Ampthill recycling centre director to pay £33,000
Woods Recycling Services director Simon Lupson was yesterday sentenced for waste permit breaches at a site which burned for days at the end of February 2013.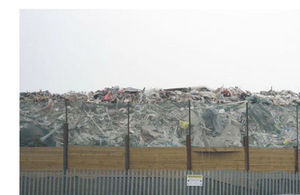 In a case brought by the Environment Agency, Luton Crown Court heard that neighbours of the site in Ampthill suffered from smells and dust for more than a year.
Local residents and workers said the smell - like rotting rubbish - and dust had affected their lives. The smells made some people want to retch and be sick and some with asthma were affected by it.
Judge Philip Bartle fined Lupson £3,000 and ordered him to pay a contribution to prosecution costs of £30,000 after he pleaded guilty to the offences on the second day of a trial listed for 3 weeks.
Abuse hearing won
The Environment Agency had also earlier won an abuse of process argument and an application to exclude evidence both lodged by Lupson in 2014.
The permit for the site in Station Road, Ampthill allowed the company to recycle and store degradable household, commercial and industrial wastes. But a number of conditions were breached covering odour, dust, and site drainage on numerous dates in 2011 to 2013.
Mr Sailesh Mehta, prosecuting counsel, said there had been a continuous impact on local residents and businesses and the amenity of the area.
He said Lupson was involved in WRS since it began, as company secretary and then as director. He knew about complaints to the Environment Agency and made promises when things got difficult. "He knew exactly what the problems were but carried on."
WRS failed to properly manage the risks and failed to follow its own internal procedures. Although there were some site-working plans and dust and odour management plans they were either not followed or were inadequate.
Failed to take action
The company continued to take waste when there was too much already on site resulting in waste biodegrading causing more leachate, mud, dust, smell and litter.
Mr Mehta said Lupson ran the business in a way that could undercut legitimate business.
The Environment Agency advised the company and its director to take action but they failed to.
Calls to the Environment Agency hotline from people living or working nearby complained of smells and dust impacting on their daily lives and businesses.
Judge Philip Bartle said the company was 'hopelessly underfunded' but Lupson was more concerned with financial profit.
He said:
I'm sure Lupson continued this company without regard to the conditions of this permit. He did assist from time to time……. but things got completely out of hand and he lost control.
The judge gave credit for Lupson's guilty plea and took into account that he had no previous convictions.
Site cleared
He said he based the fine on the circumstances of the offences and Lupson's finances.
Since the offences, the site has been cleared and the company has gone into voluntary liquidation.
After the hearing Environment Agency officer Jeremy Hay said:
Everyone who deals with waste has a duty of care to ensure their waste is handled correctly. We provided plenty of advice and guidance but unfortunately this was ignored. As a consequence local businesses and residents were badly affected by dust and odours. Waste continued to be brought onto the site despite not having the capacity to deal with it effectively
Wood Recycling took so much waste on to the site that it overflowed onto nearby land illegally. The company failed to follow its own procedures having a massive impact on local residents and businesses and the amenity of the area.
Published 25 January 2016