Press release
National drive to boost disability employment: first ever Disability Confident roadshow tours Britain
Conferences are taking place across the country showcasing the talents of the 6.9 million disabled people of working-age in Great Britain.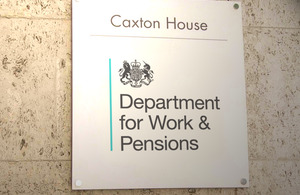 A series of conferences taking place across the country and attended by some of the UK's biggest employers have kicked off today (21 November 2013) aimed at showcasing the talents of the 6.9 million disabled people of working-age in Great Britain and highlighting their huge value to the British economy.
Falklands veteran Simon Weston is among those speaking at the 7 conferences, which stretch from Cardiff to Glasgow, and are designed to increase confidence among employers to recruit and retain the 3.6 million disabled people currently not in work.
The first event takes place today (21 November 2013) in Birmingham, fronted by 2012 Paralympics Gold Medallist Sophie Christiansen and hosted by KPMG. Delegates include:
Santander
Greggs
Sainsbury's
Boots
E.ON
Carillion
The conferences are part of the Disability Confident campaign launched by the Prime Minister in July, when he told 300 business leaders of FTSE 100 companies and SMEs that it is time to dispel the myths about the complexities of employing disabled people.
Minister for Disabled People Mike Penning said:
Research shows that more disabled jobseekers cite employers' attitudes as a barrier to work than transport, which is why we've arranged the first ever national roadshow to support employers to become more confident about hiring disabled people.

Although the employment rate for disabled people has increased gradually over the years, we know that all too often the talents of disabled people in the workforce are left untapped. One in 5 of us have a disability and doing more to employ disabled people and provide services for them could help businesses tap into the £80 billion purple pound.
Research shows the significant value of employing disabled people:
employing disabled people can help increase the number of Britain's 12 million disabled customers who use a business or service
people with disabilities generally stay in a job for longer, have a strong commitment to their job and lower rates of absenteeism
adjustments – funded through the Access to Work scheme – are easy to arrange and often benefit other staff and customers
2012 Paralympics gold medallist Sophie Christiansen said:
I'm honoured to be speaking in Birmingham at the first ever roadshow of its kind – showcasing the talents of disabled people. As my story shows, we all have unique talents and deserve the opportunity to fulfil our true potential.
Falklands veteran and businessman Simon Weston said:
What I want employers to take away from this conference is that disabled people can be some of your best employees. We're some of the most determined workers, who go the extra mile to secure results. To overlook the skills and talents of people because they have a physical or mental disability could ultimately cost you money.
Mike Cherry, National Policy Chairman of the Federation of Small businesses, said:
People with disabilities have a lot of skills and talents to offer small businesses and their insight can help drive business forward. This campaign plays an important role in making small businesses aware of the support available, so they can recruit with confidence.
Mike Steventon, Senior Partner for KPMG in Birmingham, said:
We're proud to be a disability confident employer. Talented people are at the heart of any good business. Being able to attract people from the widest possible talent pool is absolutely vital in keeping a business competitive and moving it forward. I would urge all of our local businesses to seriously consider what they can do as employers to attract more disabled talent to their organisations.
Access to Work – the flagship government programme to help disabled people get or keep a job – provides financial help towards any extra costs faced by disabled people in mainstream jobs. It can cover travel expenses, specially-adapted equipment or support workers.
As part of the employment campaign the government has also launched an advice and support service for employers on hiring and keeping disabled people in work through the new Disability Confident website.
More information
The employment rates for disabled people have increased gradually over the years from 44.5% in 2002 to 48.9% in 2012.
Last year Access to Work supported more than 30,000 disabled people keep or get employment.
We recently held the government's first disability employment conference, bringing together around 300 employers, including small businesses and disabled entrepreneurs to see what more we can do to improve employment outcomes for disabled people.
42% of disabled people looking for work say employers' attitudes are a barrier to work, compared with 37% who say that transport is. Read the research report for more details.
If disabled people's employment rate matched that of the rest of the population, an extra 2 million disabled people would be working.
The 'disability pound' is worth £80 billion to the GB economy, and 1 in 5 customers is likely to be disabled.
Contact Press Office
Press Office
Caxton House
Tothill Street
London
SW1H 9NA
London Press Office (national media and London area enquiries only – not questions about personal claims) 020 3267 5144
Out-of-hours (journalists only) 076 59 108 883
England and Wales (local media enquiries) 029 20 586 then 097 or 098 or 099
Scotland (local media enquiries) 0131 310 1122
Media enquiries for this press release – 0203 267 5117
Follow DWP on:
Published 21 November 2013