News story
Nancy Glen report and flyer published
Capsize and sinking of a prawn trawler in Lower Loch Fyne, Scotland with the loss of 2 lives.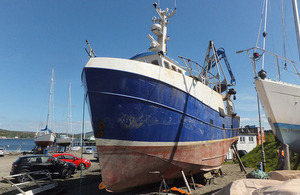 Our report on the fatal capsize of the fishing vessel Nancy Glen on 18 January 2018, is now published.
The report contains details of what happened, the subsequent actions taken and recommendation made: read more.
A safety flyer to the fishing industry summarising the accident and detailing the safety lessons learned, has also been produced.
Statement from the Chief Inspector of Marine Accidents
The capsize and sinking of Nancy Glen, which resulted in the tragic loss of two respected Tarbert fishermen, has again demonstrated the consequences of not knowing how stable a boat is. Too many of the UK's small fishing vessels have no baseline measure of their stability, so their operators cannot assess the effect of material modifications or changes to fishing methods.
The MAIB has recommended that the Maritime and Coastguard Agency implements changes to legislation to require both new and existing small fishing vessels to assess their current stability and to continue to monitor this throughout the life of the vessel.
Press enquiries
Press enquiries during office hours 01932 440015
Press enquiries out of hours 020 7944 4292
Published 30 May 2019