News story
Mystery Shopper service "has shown that it works"
A supplier commented that the Mystery Shopper service "has shown that it works", as more complaints have been resolved.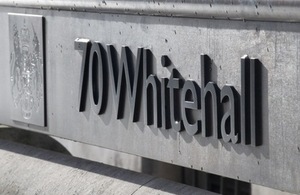 Cabinet Office continues to receive positive feedback on the Mystery Shopper service. Comments included: "You asked all the right questions" and "Mystery Shopper has shown that it works".
A particular accolade from one SME was:
It is very encouraging to know that our feedback was taken into consideration from the outset and that the Mystery Shopper feedback initiative will make a positive impact on UK public sector procurements.
80% of Mystery Shopper complaints have led to a change in the way public sector organisations buy goods and services now and in the future. The latest batch of complaints was published on 12 August 2013 with the results of 45 cases resolved since November 2012.
As more suppliers use Mystery Shopper to inform the Cabinet Office about their experience of problematic procurement procedures, more suppliers can benefit from the number of improved changes to future procurements.
Of the 45 cases investigated by the Mystery Shopper scheme:
23 cases resulted in the contracting authorities accepting Cabinet Office recommendations to change future practice and in 11 cases live procurements were adjusted following our intervention
in 11 cases the Cabinet Office found nothing substantially wrong
the issue of overdue payment continues to appear as a predominant theme, as well as Pre-Qualification Questionnaires (PQQs), financial appraisal and frameworks
Cabinet Office intervened in a number of live cases and achieved extensions for contract opportunity deadlines and the removal of pre-requisites for certification at bidding stage
all public sector organisations accepted Cabinet Office recommendations and either adjusted live procurements or changed the way future procurements are run
the Environment Agency immediately retracted the original PQQ when a mystery shopper raised concerns about its use in a procurement below the EU threshold, reviewing and then re-issuing questions that were more relevant to the specific contract and more SME-friendly
Hertfordshire County Council changed the requirement for suppliers to have run similar schemes in "at least 50" to "a significant number of" educational establishments as part of their schools Management Information Services framework tender when a mystery shopper questioned the rationale for setting such a high minimum number
the Department for Education extended the deadline for the return of bids when a mystery shopper raised concerns that the Christmas and New Year holiday period might disadvantage responses
the London Legacy Development Corporation will adopt new Cabinet Office guidance so that the financial appraisal of suppliers is risk-based and proportionate to the value of its contracts following complaints
This brings the total number of Mystery Shopper cases reported since February 2011 to 463, with 392 resolved as at the end of June 2013. There was an 80% positive outcome overall.
Published 12 August 2013