News story
Multi-million-pound investment in Royal Navy missiles
The Royal Navy will benefit from advanced new anti-ship missiles thanks to a £500 million joint investment by the UK and French governments.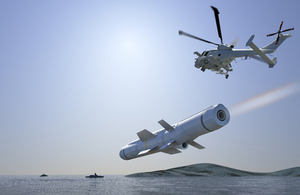 The Ministry of Defence will contribute £280 million towards the development of the future anti-surface guided missiles in what is the first new collaborative project since last month's Anglo-French summit, held at RAF Brize Norton. This marks a significant step in joint working on complex weapons between the 2 nations.
The investment will sustain around 200 highly skilled UK jobs and work will take place at MBDA sites in Lostock near Manchester, Bristol and Stevenage. The contract will also protect a further 200 jobs in France.
The missiles will use sophisticated homing technology to attack small and medium-sized targets and will be carried by the Royal Navy's new Wildcat helicopters.
The Minister for Defence Equipment, Support and Technology, Philip Dunne, said:
This highly sophisticated complex weapon system will provide our new Royal Navy Wildcat helicopters with unparalleled strike capabilities.

Not only will the contract protect around 200 specialist engineering jobs in the UK, but is also an important plank in building the strength of our relationship with France through joint procurement of common equipment, which will provide interoperability and other benefits of working in partnership.
The next generation multi-role surface attack weapon
The First Sea Lord, Admiral Sir George Zambellas, said:
These state-of-the-art missiles will play their part in the maintenance of a credible navy; not only will they provide the Fleet Air Arm with a continuing battle-winning edge into the future, but they will also help to strengthen our partnership and interoperability with our good friends in the Marine Nationale [French Navy].
Weighing around 100kg, this modern primarily anti-ship missile will destroy vessels from a safe stand-off range. The missile also has a surface attack capability against coastal and land targets.
The joint programme will deliver an enhanced capability to replace existing and legacy systems such as the UK-developed Sea Skua and the French-developed AS15TT anti-ship missiles.
This new system provides very precise effects against a wide range of threats, even in complex environments. A high speed, 2-way data-link communicates the images 'seen' by the missile's seeker to the operator, who, in addition to initiating an autonomous engagement, can alternatively remain in control of the missile throughout the full duration of its flight.
This optional, man-in-the-loop, monitor-and-control facility enables new capabilities such as in-flight retargeting, final aim point correction and refinement, and safe abort.
Published 27 March 2014