Multi-million pound fund for adult learning announced
£11.7million announced for 32 new projects to help adults learn new skills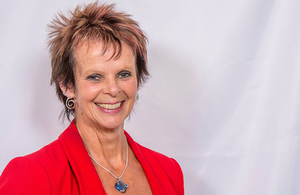 A new £11.7million fund investing in a range of projects to help more adults back into the classroom and learning new skills has been announced by Skills Minister Anne Milton today (29 March).
The Flexible Learning Fund will support 32 innovative projects across England to encourage more people to take part in new training or courses that will help them progress in current employment or secure a new job.
Projects are aimed at a range of skill levels – teaching beginners all the way through to those who already have a good understanding of a topic. Exciting projects include supporting IT users to gain new skills in cyber security, training older workers and people whose jobs are affected by the need for greater digital skills, and increasing the maths skills and confidence of adults already in work.
Apprenticeships and Skills Minister Anne Milton said:
These projects are an opportunity for people to get the skills they need to kick-start their working life.

I'm really excited about these projects, which will help people learn the skills they need to grow and succeed in lots of different jobs. Whether working already or returning to work, it can be difficult for people to fit training around their busy lives. This funding aims to find out how providers and employers can work together to better meet the needs of adults of all ages, who want the opportunity to learn important new skills and change their lives.
Managing Director of Access Skills Neil Crawford said:
We're delighted that the proposal submitted by Access Skills has been selected for support from the Flexible Learning Fund. To break the barriers that prevent adults from returning to learning we will use an on-line learning environment to deliver Health and Social Care leadership qualifications in flexible and accessible ways.
Chief Executive of National Numeracy Mike Ellicock said:
National Numeracy fully support the aims of the Flexible Learning Fund. National Numeracy will work with 6 partners including the John Lewis Partnership, Civil Service Learning and KPMG to deliver basic numeracy skills via an online delivery method either with employers or through direct digital engagement with learners. The project will be aimed at those in work who are looking to upskill and gain confidence in numeracy.
A full list of the 32 projects the fund will support is below.
Successful projects:
| Lead Organisation | Region | Project Title |
| --- | --- | --- |
| National Numeracy | Nationwide | Using online learning to engage working adults in improving their basic maths skills |
| Workers Education Association | London | Flexible and accessible learning delivered through the innovative use of Behavioural Insight |
| The College of Haringey, Enfield and North East London part of the Capital City College Group | London | Routes 2 Cyber Security, Digital Skills and Business Transformation for Adult Learners |
| NA College Trust | East Midlands | Developing online packages for Level 1/2 maths and English functional skills for engineering, manufacturing and service sector workers |
| Access Skills | West Midlands | Developing flexible workplace task focused learning for delivery in the Health and Social Care sector |
| Rutland County Council | East of England | Armed Forces dependants flexible learning project |
| Newham College of Further Education | London | Local London Flexi-Learn |
| Open University | East Midlands | Bringing Learning to Life |
| Bristol City Council on behalf of the West of England Community Learning Consortium | South West | Let's Get Ahead! Flexible learning for inclusive growth |
| National Land Based College | West Midlands | A flexible approach to the delivery of Level 2 and 3 land based qualifications, to upskill or reskill those already working, or seeking to work in the land based sector |
| Carlisle College | North West | Cumbria eLearning platform for functional skills |
| St Helens Chamber | North West | Digital Skills for Returners and low-skilled employees |
| Dudley College of Technology | West Midlands | Improving Access to skills in the region |
| PeoplePlus Group | North West | Progression Pathways for Parents |
| Hounslow London Borough Council | London | West London Blended Learning Project |
| Open Awards | North West | Blending Access to Higher Education |
| Durham County Council Adult Learning and Skills Service | North East | Durham Learn |
| Weston College | South west | Developing online/online blended training packages to bridge the skills gap for the West of England |
| Skills and Learning Bournemouth, Dorset and Poole | South west | Flex to Learn |
| Middlesbrough College | North East | Open Access to Health |
| The Consultancy Home Counties Ltd | East Midlands | Class2Cloud |
| Fareport Training Organisation Ltd | South East | Health Care Worker. Fast track pre-employability literacy and basic skills programme |
| Edlounge | Yorkshire & the Humber | The Virtual Education Lounge |
| South Devon College | South west | Switching Up |
| DBC Training | East Midlands | Language Labs |
| Nottinghamshire County Council | East Midlands | Carers into Caring |
| Hull College Group | Yorkshire & the Humber | Developing an employer supported Level 2 Health and Care professions qualification to improve the skills profile of Health and Care workers through flexible delivery |
| Birmingham Metropolitan College | West Midlands | Digital Engineering Academy |
| Kensington and Chelsea College | London | Flexible First Steps to London |
| North Shropshire College | West Midlands | The Pop-up College |
| London Skills Development Network | London | Open Access learning hubs (Edugym) and interactive digital learning for adult learners retraining or returning to work |
| London College of Beauty Therapy | London | Building futures for adults in Beauty, Hair and Retail through flexible learning |
Published 29 March 2018