Press release
Multi-million pound boost for NHS stem cell services
After visiting University College Hospital in London to announce an additional £4million investment in NHS stem cell services,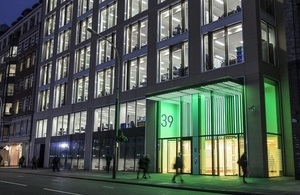 Public Health Minister Anna Soubry, said:
Yesterday I announced an extra £4million investment in NHS stem cell services.
We estimate that this money could save up to 200 lives.
It is being given to NHS Blood and Transplant, who manage the national voluntary donation system for blood, tissues, organs and stem cells, and the charity Anthony Nolan, which works with people who urgently need stem cell transplants.
These organisations will use it to increase the supply of stem cell donations available to patients needing a transplant.
It will help patients with conditions like cancer and lymphoma who are among the most vulnerable in the NHS. It's crucial that we do everything we can to help them recover as quickly as possible.
It is estimated that 400 patients each year miss out on treatment because of a lack of suitable stem cell donors.
To mark this announcement I visited University College Hospital in London to see first hand how this vital service saves people's lives.
I met with a recipient of cord blood and heard how a cord blood donation saved his life. I also met mums who donated their placenta after they gave birth – their actions saved other people's lives.
This £4million investment, taking our total investment to £12million since 2011, will help to save the lives of many more patients who need bone marrow transplants. I'm really pleased that the NHS will continue to benefit from the experts at Anthony Nolan and NHS Blood and Transplant.
The funding will mean that cord blood collection centres will continue to collect cord blood to increase the amount of suitable stem cells available. It will also be used to improve the current register of young adult donors, meaning patients will not have to wait as long for a transplant.
I look forward to seeing how this extra investment helps our NHS stem cell services continue to save people's lives.
Published 25 April 2013