Press release
More patients than ever before are staying in single sex accommodation
Mixed sex accommodation in NHS hospital trusts has dropped by 94 per cent in one year, Health Secretary Andrew Lansley announced today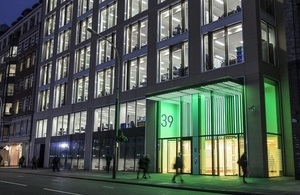 Mixed sex accommodation in NHS Trusts drops by over 11,000 in just one year
Mixed sex accommodation in NHS hospital trusts has dropped by 94 per cent in one year, Health Secretary Andrew Lansley announced today.
The latest statistics show that unjustified stays in mixed sex accommodation have fallen by 11,035 in just one year since December 2010.
Protecting the privacy and dignity of patients is a priority for the NHS, and a record 73 per cent of hospital trusts are now reporting zero cases, compared with 52 per cent of trusts this time last year when new monitoring systems were introduced.
Health Secretary Andrew Lansley said:
"Nobody should have to suffer the indignity of staying in mixed accommodation and this is why I pledged to tackle this issue so that if patients go in for treatment, they will be cared for with compassion, dignity and privacy. Thanks to our tough action, the figures released today confirm that we are delivering on that promise."
"Almost all acute hospitals are following the rules and we are working to ensure this is copied across the NHS. But one breach of the rules is one too many, and we will continue to work on eliminating the indignity of mixed sex accommodation."
Michelle Mitchell, Charity Director at Age UK says:
_"We are pleased to see figures finally showing real progress in bringing an end to mixed sex accommodation. We know that many older patients find sharing a ward with the opposite sex significantly compromises their privacy and the experience can be extremely distressing." _
"However privacy is just one aspect of dignity. Through the Dignity in Care commission, Age UK is looking at ways to ensure that the essential care needs of older people and their dignity are respected."
Notes to editors:
1.    In December 2010, hospitals reported that 11,802 patients were placed in mixed-sex accommodation without any justification. This compares to 767 for December 2011 - a decrease of 94 per cent.
2.    The commitment to eliminate mixed-sex accommodation can be found in the 2011-12 NHS Operating Framework, which states: "All providers of NHS funded care are expected to eliminate mixed-sex accommodation except where it is in the overall best interest of the patient".
3.    Details of MSA data for individual organisations are available on the DH website.
4.    A full statistical press notice, with further explanatory notes is available on the DH website.
5.    Hospital site-level data is available on the NHS Choices website.
6.    Each trust makes an informed choice regarding the appropriate percentage of single room provision based on practical considerations such as site restrictions, affordability as well as clinical and operational limitations. In some cases, providing single rooms for all patients may not be clinically appropriate.
7.    For press enquiries, please contact the DH press office on 020 7210 5221.
Published 19 January 2012