More men being forced into marriage
Foreign Office Minister Jeremy Browne has highlighted a dramatic rise in cases of men being forced into marriage over the last two years.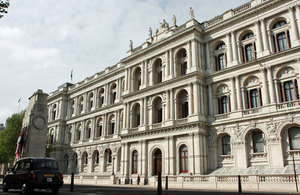 Last year the Forced Marriage Unit (FMU), a joint initiative between the Foreign Office and Home Office, received over 220 emails and calls to its helpline about suspected forced marriages involving male victims - up from 134 in 2008, an increase of 65 per cent*.
With the summer holidays approaching, traditionally a time when incidents increase, the FMU is warning professionals who work with young people to be alert and act on any concerns they may have.
While the majority of victims are women, men may be forced into marriage for a variety of reasons, some of which relate to family commitments and expectations, securing visas or the desire to control behaviour and protect a family's reputation. The FMU has already received over 80** reports of men being forced into marriage so far this year and has seen a number of cases linked to sexuality. This has included male victims being forced to marry women because their families know or suspect they are gay or bisexual.
Male and female victims of forced marriage, or others acting on their behalf, can apply for a Forced Marriage Protection Order. An order can be used to prevent someone being forced into marriage or to protect a person where a marriage has already taken place. People can be arrested if they do not comply with the orders. Since coming into force in November 2008, over 150 orders have been taken out.
Jeremy Browne, Foreign & Commonwealth Office Minister for Consular Policy, said:
"Although this continues to be an issue affecting both men and women, people often don't realise that men can be victims of forced marriage too. 14%* of the cases handled by the Forced Marriage Unit last year involved men and it's a problem we are determined to raise awareness about and help communities to address.
"Boys and men who are forced into marriage find it harder to ask for help than women, but we are urging males affected by forced marriage to speak out and seek the help that is available to them.
"Of course women make up the majority of forced marriage victims and over 1,400 reports of women facing this abuse were dealt with by the Unit last year. Any professionals working with young people who suspect that a forced marriage could take place should contact the Forced Marriage Unit for advice."
If you are worried you might be forced into marriage or are worried about a friend or relative you can call the Forced Marriage Unit in confidence on 0207 008 0151 or email fmu@fco.gov.uk
Published 1 July 2010