Press release
More choice and lower water bills for businesses
Government proposals to slash the current threshold to just five megalitres of water.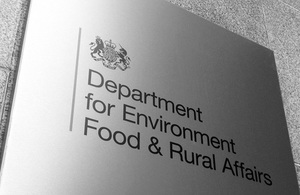 More businesses across England will be able to choose their water supplier in search of a better deal under changes to be introduced shortly by the Environment Minister, Richard Benyon.
Currently only businesses who use more than fifty megalitres of water a year, which is equal to 20 Olympic sized swimming pools, can switch from their existing water supplier to a new one.
Government proposals to slash this threshold to just five megalitres of water, equivalent to two Olympic sized swimming pools, will substantially increase those able to switch supply, from just 2,200 to 26,000 businesses.
The change, which is subject to Parliamentary approval, is an amendment to the Water Industry Act 1991. It is hoped the change will be enacted by the end of the year.
Environment Minister Richard Benyon said:
"This change will allow a huge number of extra businesses to search out better water deals by switching supplier if their current supply does not work for them.
"It also highlights the Government's firm commitment to help businesses and stimulate the economy."
Regina Finn, Ofwat's Chief Executive said:
"Ofwat welcomes the proposed lowering of the threshold, which will bring real benefits to an extra 24,000 business customers. This recommendation was made by Martin Cave in his review on competition in the sector.
"It is a step in the right direction and good news for qualifying businesses who will welcome greater choice during difficult economic times." 
Dame Yve Buckland, Chair, the Consumer Council for Water said:
"This will be good news for many business customers, who are currently frustrated by the lack of progress of competition in water.
"The important thing now is to get the system working for those customers who can now switch and will need to have the confidence that they can easily and seamlessly change supplier.
"We know that many business customers want to be able to choose their water supplier and have high expectations for competition in the sector."
Potential benefits associated with lowering of the threshold could take the form of lower bills, reduced consumption as a result of increased water efficiency measures and there could be benefits to the environment through reduced water consumption and CO2 emissions.  
Notes
The independent review of competition and innovation in water markets led by Professor Martin Cave in 2009 recommended reform of the Water Supply Licensing regime (the WSL regime) and, in particular, measures to extend the scope of the regime. The review recommended that the threshold at which non-household customers were eligible to switch from their existing water company to a licensed water supplier be lowered from 50 megalitres (MI) per annum to 5MI per annum as soon as possible, and eventually to zero.
The current threshold is set out in the Water Industry Act 1991 (as amended) by the Water Act 2003. The WSL regime was introduced by the Water Act 2003 and went live in December 2005. It introduced the 50Ml threshold and enabled businesses and other organisations that use at least 50Ml of water a year to change supplier to a new water supply licensee.  The purpose of these regulations is to lower the threshold to 5Ml a year.
The regime was designed to permit some customers within the sector to choose to receive their water services from new entrant providers that had been licensed under the WSL regime. In order for a water supply licensee to be permitted to supply the premises of a customer, the following three requirements must be met:
* the premises of the customer cannot be a household premises;
* the threshold requirement must be met (i.e. the water supply licensee must expect to supply not less than 50MI of water to the premises of that customer in a year); and
* the premises of the customer must not be supplied with water by another company pursuant to a water supply licence.
The change applies to appointed water companies supply systems that are wholly or mainly in England. In practise this means they follow the geographical boundaries of water company's areas of appointment rather than the common jurisdictional boundary and apply to the majority of the geographical area of England and a small minority of Wales. Premises supplied with water using the supply system of a water undertaker whose area is wholly or mainly in Wales will still remain subject to the 50MI per annum threshold. 
5. Other recommendations of the Cave review are being considered for inclusion in the Water White Paper:   
http://www.defra.gov.uk/environment/quality/water/legislation/whitepaper.
Published 31 October 2011