Money saving expert backs government support for struggling homeowners
Independent money saving expert Martin Lewis supports government schemes to help struggling homeowners.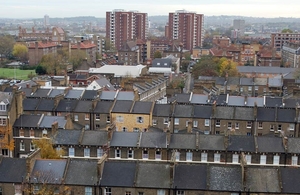 Housing Minister Grant Shapps has welcomed the support of Martin Lewis, creator of Moneysavingexpert.com, as part of ongoing efforts to encourage more struggling homeowners to seek early help and advice with their mortgage worries.
It comes as the minister outlines the findings of his review of Communities and Local Government schemes providing support to homeowners at risk of repossession.
The Council for Mortgage Lenders has forecast that there will be 53,000 repossessions in 2010. With this in mind, Mr Shapps has decided to re-focus the Mortgage Rescue Scheme so it benefits homeowners in need while providing value for money for taxpayers, with a reduction in the grant rate paid to Housing Associations and tighter caps on property price and repair costs.
Using their knowledge of the needs of their communities, councils will help to deliver the scheme alongside their local housing associations to ensure that the scheme is targeted at homeowners who are most likely to benefit from it. The longer term role for the Mortgage Rescue Scheme will be considered through the Spending Review.
Watch a video of the minister talking about support for struggling homeowners
Video transcript (MS Word Document, 24.5 KB)
Homeowner Mortgage Support
Launched in April 2009, the Homeowners Mortgage Support Scheme has only helped 34 people although research to be published shortly shows that it has had a positive impact on lender forbearance practice and mortgage arrears management.
Because of low administrative costs, the minister has decided that the support scheme will remain as a backstop that maybe needed if interest rates rise. It will close as planned at the end of the financial year.
Mr Shapps is also stepping up work with partner organisations, such as Shelter and Citizens Advice, to promote the help available to struggling homeowners.
But the minister believes the most effective thing the government is doing to help homeowners is tackling the record deficit and preventing the need for rapid increases in interest rates.
Grant Shapps said:
"The most effective thing the government can do for homeowners is to tackle the record deficit and avoid the need for rapid increases in interest rates. But there must still be effective help on hand for those struggling to pay their mortgages.
"So today I can confirm that the Mortgage Rescue Scheme and Homeowners Mortgage Support Scheme remain available as a last resort to homeowners facing the real threat of repossession.
"But the most effective thing anyone with money worries can do is to not bury their heads in the sand, seek early advice and speak to their lender to avoid losing their home. I would urge people to visit www.direct.gov.uk/mortgagehelp, or contact organisations like Citizens Advice for free advice on taking control of their finances."
Independent money saving expert Martin Lewis said:
"Mortgage repossession's a catastrophic threat for struggling families, and anything that's done to help them ride it out is crucial. The most important rule is get help as soon as possible - fighting repossession when they're coming for your house is too late, instead act as soon as you spot the potential for trouble and possible arrears.
"The help at hand means some who qualify will have their mortgage interest paid for them, others will be allowed to postpone paying both through official government scheme and improved lender leniency and a few may have their house part bought.
"So the golden rule is if you're in trouble speak to your lender asap and a non profit agency like Citizens Advice or National Debtline for help plus visit Money Saving Expert and DirectGov and you may find its easier to start sleeping at night."
Help and advice for struggling homeowners
Anyone with mortgage worries can go to www.direct.gov.uk/mortgagehelp where they can get impartial advice, find out the steps they can take to keep their home and prepare an action plan to tackle their own finances. Free debt advice is also available from organisations including Citizens Advice, Shelter and National Debtline.
The Financial Services Authority has also recently introduced tough new rules on lenders so repossession remains the last resort, and so those in arrears who have come to an agreement on repayment are treated fairly.
Published 20 July 2010