World news story
Model G8 competition in Tashkent
British Ambassador launches Model G8 competition in Tashkent.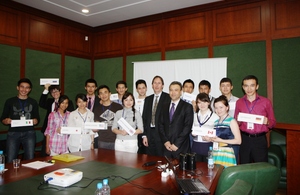 On 11 April, the British Ambassador in Tashkent, George Edgar O.B.E., launched the British Embassy's Model G8 initiative, in cooperation with Westminster International University in Tashkent. The Ambassador met the sixteen students who will participate in the Model G8, and discussed with them the project, and their views on what should be the UK's priorities for its 2013 G8 Chairmanship.
The UK is chairing the G8 in 2013. The G8 is a group of eight major economies that between them make up 50% of global GDP. The project is aimed at helping build understanding to engage students in the work of the G8 and its focus on solving global economic challenges. The launch took place at WIUT, where the Ambassador briefed students about the Model G8, and about the UK's agenda for its Chairmanship. The students engaged in discussion with the British Ambassador about the UK's priorities.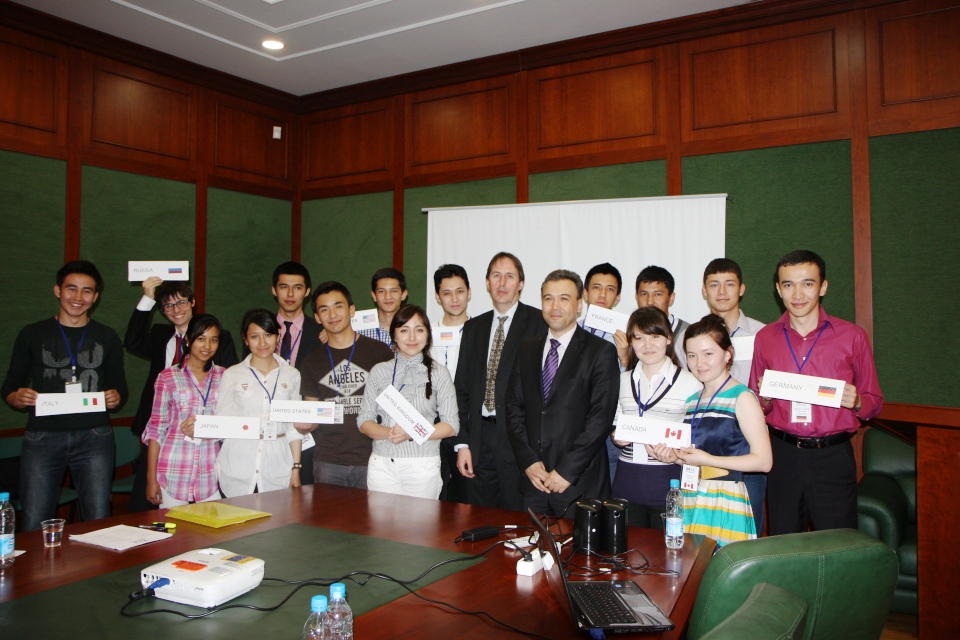 The first event of its kind in Uzbekistan, the Model G8 will see sixteen students (two per country), who were selected at interview from leading universities in Tashkent, participating in an intensive two week training programme of events and each taking the role of one of the eight countries of the G8. The programme will culminate in a simulated G8 Summit on 27 April, at WIUT, in front of an audience of diplomats, dignitaries, students and parents. A panel will judge the G8 team that performs the best at the Summit, drawing on feedback about the teams' performance at the training sessions. As part of their preparations, the teams will be given the opportunity to work with diplomats in Tashkent from the country they will be representing.
The UK's G8 chairmanship agenda is ambitious, practical and pro-business. It will deal head on with the big issues of the day that affect the stability and growth of the global economy. At the heart of the UK's G8 agenda are three issues – advancing trade, ensuring tax compliance and promoting greater transparency. These are all areas where the G8 can play a distinctive role, using our commitment to open economies, open governments and open societies to support enterprise and deliver economic growth. Trade, tax and transparency are critical issues for global prosperity, for jobs and for sustainable development. The British Prime Minister wants to take every opportunity to discuss the major issues facing the global economy in an effort to reach global consensus and collective determination to address the economic challenges the world faces.
The UK's G8 chairmanship will also seek to address political and foreign policy issues. On 10 and 11 April the UK Foreign Secretary, William Hague, hosted foreign ministers from the G8 countries. As well as current foreign policy issues, the Foreign Ministers discussed the UK Foreign Secretary's initiative on Preventing Sexual Violence in Conflict, Burma/Myanmar, Somalia, and Cyber Security.
Published 12 April 2013