News story
MOD successful in appeal to trace airman's family
Following the successful appeal the Ministry of Defence (MOD) are going to re-dedicate Sgt Roy Penry Williams' grave.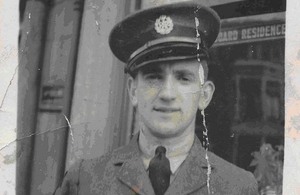 The Ministry of Defence (MOD) is pressing ahead with re-dedicating the graves of a World War 2 Wellington bomber crew after successfully locating the relatives of the last remaining airman.
Last month, MOD's Joint Casualty and Compassionate Centre (JCCC), part of Defence Business Services, appealed for the family of Sgt Roy Penry Williams to come forward. Sgt Williams (21), from Bridgend, was the radio operator on Wellington R1397 of 103 Squadron RAF, when it took off from RAF Elsham Wolds in Lincolnshire on 25 July 1941 on a mission to bomb the German town of Emden. The mission was successful but on their return to the UK, Sgt Williams and the other 5 crew members were killed when the aircraft was shot down by a German fighter near Boznum in the Netherlands.
The crew were believed to be buried locally but their precise resting place was unknown. However, recent research by the JCCC, and a review of evidence submitted by the Royal Netherlands Army, has confirmed all 6 airmen are buried in a communal grave at Leeuwarden Cemetery in the Netherlands.
The successful appeal means all of the crew's families have now been found and a service will take place in the Netherlands on 15 September to re-dedicate 2 new headstones bearing the names of each of those who died.
One of Sgt Williams's relatives traced by the appeal is Mrs Elizabeth Joseph, Roy's first cousin once removed. Mrs Joseph (74), now living in Derbyshire, was able to confirm to JCCC that Sgt Williams's father, Robert Penry Williams, and his mother, Ketura, have both passed away but that she remembered visiting Ketura when she was younger.
Mrs Joseph said:
"I was only one year old when Roy was killed so I don't remember that day but I used to visit Auntie Ket with my mam and dad.
"When I saw the MOD's appeal, I had mixed emotions reading it and how it resurrected the sadness Auntie Ket felt at the time. I'm delighted that Roy and the other 5 crew members are being formally recognised for what they did, but I also remember how sad Auntie Ket was on hearing that Roy was missing, presumed dead.
"Reading such news was very difficult for her to accept to the extent that she never again locked the doors of the bungalow, believing that Roy would come home one day."
Mrs Joseph plans to travel to the Netherlands and join relatives of the other crew members, Sgt John Cox (24), PO Mervyn Lund (23), Sgt Arthur Owen (24), Sgt Alfred Le Poidevin (23) and Sgt Frank Walker (30), at the service.
She added: "Auntie Ket passed away over 50 years ago, having survived her husband Robert Penry by many years, but she would be so proud of this occasion and it is a shame she is not here to see it for herself."
The service will bring to a conclusion many months of work by the JCCC in tracing the relatives of all the crew members and working with the Commonwealth War Graves Commission to provide a fitting tribute to those who died onboard Wellington R1397.
Tracey Bowers, Head of the JCCC Commemorations Team said "I would like to thank the many members of the public who contacted us after our appeal and who helped us find Sgt Williams's relatives. This means the family can now place a personal inscription on his gravestone and can attend the service that will finally recognise the sacrifice he and his fellow crew members made for the defence of our country."
The Joint Casualty and Compassionate Centre Joint Casualty and Compassionate Centre (JCCC) provides a focal point for casualty administration, notification and requests for overseas compassionate travel for members of the British Armed Forces. JCCC also answers enquiries relating to historical military fatalities and co-ordinates investigations following the discovery of human remains of British service personnel killed in World War 1 and World War 2.
Published 12 August 2015