Press release
Ministry of Justice's settlement at the Spending Review 2015
The Chancellor has published the results of the spending review, including details of the Ministry of Justice's (MOJ's) budget over the course of this Parliament.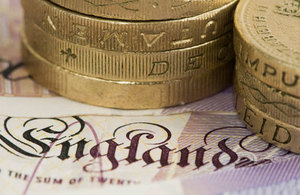 The Spending Review and Autumn Statement delivers on the government's priority to provide security to working people at every stage of their lives. It sets out a 4 year plan to fix the public finances, return the country to surplus and run a healthy economy that starts to pay down the debt. By ensuring Britain's long term economic security, the government is able to spend £4 trillion on its priorities over the next 4 years.
For the MOJ this means
£1.3 billion of capital investment over the next 5 years to transform the prison estate to better support rehabilitation
more than £700 million investment in the courts and tribunals system to create a swifter, more proportionate justice system, which will generate savings of approximately £200 million a year from 2019-20
savings to the department's administrative budget of 50% by 2019-20
overall resource savings of 15% by 2019-20 including by delivering efficiencies within the prisons and courts systems
Ministry of Justice
£ billion
Baseline
Plans
2015-16
2016-17
2017-18
2018-19
2019-20
2020-21 (2)
Resource DEL (1)
6.2
6.5
6.3
5.8
5.6
*
Capital DEL
0.4
0.7
0.7
0.7
0.4
0.1
Total DEL
6.5
7.2
7.0
6.5
6.0
*
(1) In this table, Resource DEL excludes depreciation
(2) 2020-21 Resource DEL departmental budgets have only been set for some departments. For the rest, these budgets will be set in full at the next Spending Review
Long term investment
£1.3 billion will be invested to reform and modernise the prison estate to make it even more efficient, safer and focused on supporting prisoner rehabilitation. The government will build 9 new, modern prisons – 5 of which will open this Parliament – with better education facilities and other rehabilitative services, while selling ageing, inefficient prisons on prime real estate to free up land for new homes.
Efficiency and reform
By investing in the prison estate, the government will reduce running costs in prisons by £80 million a year when the reforms are complete. New investment will also fund video conference centres, allowing up to 90,000 cases to be heard from prison instead of court, and will deliver more safety improvements in prisons, including body scanners and mobile phone blocking technology.
These reforms will reduce reoffending through more effective rehabilitation, and will reduce the cost of transporting prisoners between courts and prisons, stamp out the organisation of crime from within prisons, and stem the availability of drugs and other illicit substances. This builds on the probation reforms undertaken in the last Parliament, which will reduce the costs of the system and reinvest them into extending probation support to 45,000 short-sentence offenders for the first time, to tackle reoffending.
The Spending Review invests in the ongoing HM Courts and Tribunal Service reform programme, which is rationalising the under-used court estate. Over £700 million will be invested to fully digitise the courts and create a more modern estate. This will generate savings to the taxpayer of approximately £200 million a year from 2019-20. The government will also look at changes to court fees as it continues to put the courts on a more sustainable financial footing.
Together the investment in the courts and prisons systems will enable MoJ to release land for more than 5,000 homes.
By focusing on its reform priorities and delivering significant efficiencies within its back office running costs, MOJ will be able to reduce its administrative budget by 50% by 2019-20.
Secretary of State for the Ministry of Justice, Michael Gove, said:
This Spending Review allows us to create a one nation justice system which better serves the public.

It provides the funding we need to reform the courts, so they provide swift and certain justice.
We will also transform prisons, so they become places of rehabilitation - helping to reduce reoffending, cut crime, and improve public safety.
Published 25 November 2015