Press release
Ministers pave way for major Croydon revamp
Compulsory purchase order for the Whitgift Shopping Centre confirmed.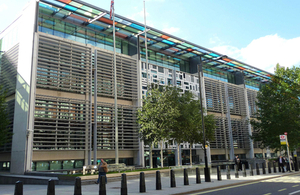 A major revamp of Croydon town centre took a step closer today (16 September 2015) after ministers confirmed a compulsory purchase order for the Whitgift Shopping Centre.
The decision paves the way for a £1 billion regeneration in the heart of the borough - a move which will spur further development and bring new custom and business to the town.
Developers Westfield and Hammerson want to completely redevelop the ageing shopping centre, building a modern retail hub with leisure, accommodation and community facilities fit for a 21st century metropolitan destination.
It is the latest in a line of developments over recent years in the south London borough, including the multi-million pound mixed-use development at Ruskin Square and the residential Morello scheme near East Croydon station.
Planning Minister Brandon Lewis said:
Croydon is a town on the rise and as a One Nation government we're determined to support that.

This decision allows for an ambitious £1 billion redevelopment of the town centre that will transform it into a vibrant hub that people want to visit.

It has the potential to bring massive benefits to local people and businesses and will ensure Croydon continues its transformation into a first-class destination.
The 3-storey Whitgift Centre was built between 1965 and 1970. Its dated design has led to growing calls to redevelop the shopping centre as Croydon increasingly looks to transform itself into a vibrant metropolitan hub.
Ministers have now confirmed a compulsory purchase order for the 7-hectare site.
The plans have the potential to provide a major overhaul of the area between Poplar Walk, Wellesley Road, George Street and North End.
They include proposals for 136,500 square metres of retail space, 16,400 square metres of leisure facilities, 1,100 square metres of community facilities and 1,900 square metres of offices.
Further information
Croydon borough council made the compulsory purchase order.
The order was considered at a public inquiry which began on 3 February 2015 and ran until 13 March 2015.
After considering the independent planning inspector's report following the inquiry, together with all other relevant matters, the Secretary of State has agreed with the inspector's recommendation to approve the order.
The site has outline planning permission. The detail of the proposals will need to be approved, by Croydon borough council at a later date.
Croydon council will arrange for the decision letter to be available for inspection at the council offices and website.
Office address and general enquiries
2 Marsham Street
London
SW1P 4DF
Contact form http://forms.communiti...
General enquiries: please use this number if you are a member of the public 030 3444 0000
Published 16 September 2015