News story
Minister welcomes cyclists "Inspired by 2012"
Foreign Office Minister Mark Simmonds met Cyclists who have biked from Paris to London as part of the "Inspired By 2012" campaign.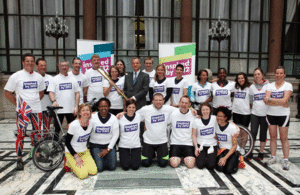 The Great British Embassy Bike Ride was made up of 20 cyclists who work at the British Embassy in Paris and consulates in Marseille and Bordeaux. They left Paris on Friday, riding 50 miles (80km) a day along the "Avenue Verte" cycle route inaugurated in 2012 for the London Olympic Games. The team were raising money for the National Society for the Prevention of Cruelty to Children (NSPCC) and the French charity L'Enfant Bleu – Enfance Maltraitée, and promoting safe travel messages for British nationals cycling abroad this summer.
Minister Mark Simmonds said:
Cycling from Paris to London is no mean feat. It's also a great way of getting out into the public, spreading our consular message and raising money for good causes. And it's fantastic that, under the banner of "Inspired by 2012", the Great British Embassy Bike Ride team have kept the spirit of 2012 alive. They should now enjoy a well-earned rest!
Dame Sarah Storey, the most highly decorated female Paralympic athlete in history, sent her best wishes to the cyclists last week before they set out. She said:
I was thrilled to hear that this cycle ride was inspired by 2012. It is a great thing to do and I hope they enjoy it.
The "Inspired By 2012" brand enables everyone, from government departments to local sports clubs, businesses and individuals to activate and celebrate Olympic and Paralympic Legacy activity. Many long distance charity cycle rides will be taking place this summer and as with all holidays, it's important to prepare properly. Here is some advice from the FCO cycle team riders to help you have a safe and enjoyable trip:
Tips for preparing for long distance cycle rides and holidays:
Make sure you get comprehensive travel insurance which covers both you and your cycling equipment for everything you plan to do both in the UK and abroad.

If you are cycling to a European destination make sure you take a European Health Insurance Card (EHIC) with you. You can get one from the NHS website. This will entitle you to free or discounted healthcare in most European countries. But you will still need appropriate insurance to ensure you are fully covered for all eventualities.

Research the road rules and conditions in the country that you will be travelling to before you go. The FCO road safety overseas tool.

Make sure you have a visa for each country you are planning to visit before you travel.

Make sure you keep your passport safe at all times. It is also worth taking photocopies of important travel documents such as passports and visas with you just in case you need to show them.

Make sure you take enough foreign currency with you as you may not have regular access to cash points on the road.

Learn a few phrases and research local laws and customs. The locals will appreciate your efforts and it will ensure that you don't find yourself in trouble accidentally.

Make sure you stay hydrated and wear plenty of suncream, especially if you are cycling in warmer climates than you are used to.

Always take sensible safety precautions; for cycling a helmet and protective clothing to keep you safe.

Take information about your local Foreign and Commonwealth Office with you and familiarise yourself with what they can and can't do to help in case of emergencies and Remember, you can call 112 to contact the emergency services in any EU country.
The Foreign and Commonwealth Office (FCO) updates its travel advice on a country-by-country basis the moment situations change.
Further information
Follow FCO travel on Facebook or twitter @fcotravel
Find out more about the Great British Embassy Bike Ride fund raising
Follow the British Embassy on twitter @ukinfrance
Follow Foreign Office Minister Mark Simmonds on twitter @MarkJSimmonds
Follow the Foreign Office on twitter @foreignoffice
Follow the Foreign Office on facebook and Google+
Subscribe to the announcements feed or email alerts to get our latest news and announcements
Published 21 May 2013