Foreign Office Minister for Latin America met Uruguayan authorities during his visit to Montevideo.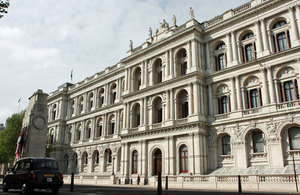 Jeremy Browne MP, Foreign Office Minister for Latin America, visited Montevideo on 20 May and met with members of the government, the business community and sports personalities in Uruguay.
"My visit is part of a process of Britain being an even stronger and even closer friend of Uruguay and of Latin America as a whole", Minister Browne said.
He is the first Minister from the UK Coalition Government to have visited the country. Uruguayan Foreign Minister Luis Almagro visited London last March.
Mr. Browne met Vice-President Danilo Astori, Acting Minister of Foreign Affairs, Roberto Conde, and Minister of Defence, Luis Rosadilla. The Minister congratulated them for the bicentenary of the process of Independence and presented each with a reproduction of a painting by Uruguayan artist Jose Luis Zorrilla de San Martin.
They discussed the historic and still vibrant relationship between UK and Uruguay. They talked about economic and foreign policy issues, including the UK experience in Public-Private Partnerships. Minister Browne praised the important contribution of Uruguay to the UN and international affairs, for example in human rights and peacekeeping.
In the evening, the Ambassador hosted a reception where the Minister, who has Foreign Office responsibility for London 2012, met the Uruguayan Minister of Sport, and the Uruguayan Olympic and Paralympic Committees. He presented memorabilia to the under-20 football team and swimmer Gabriel Melconian, who have qualified for London 2012.
Mr. Browne, a keen football fan, also visited the National Football Museum, where he donated to their collection a shirt and photographs signed by Geoff Hurst, who scored a unique place in the history of football when he became the first player to secure a hat trick in a World Cup Final in 1966.
Search the news archive
Published 24 May 2011