Minister looks to boost links and learn China's Olympics lessons
The Foreign and Commonwealth Office Minister of State Jeremy Browne is visiting China to deepen UK-China relations and boost business ties.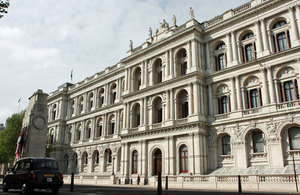 Jeremy Browne
Jeremy Browne is in China to boost business ties, and press Foreign Secretary William Hague's commitment to deepening UK-China relations.
On his first trip to the country since his appointment as a Minister of State at the Foreign and Commonwealth Office in May, he is also looking to learn lessons from Beijing for London hosting the 2012 Games.
In a visit to the Olympic City's Birds Nest and Water Cube sites he met leaders of the Beijing Olympic Development Committee (BODA), who are responsible for using the Beijing Games legacy to the full. As Foreign Office Minister for the Olympics, Jeremy Browne is keen to see how the UK can learn from the extraordinary success of the Beijing Olympics and use its experience as Britain prepares for London 2012.
The Minister said today:
"The Olympic legacy is a further link to bring our peoples together. When I see for myself the iconic Bird's Nest stadium and other Olympic legacy sites, it is not just the Olympic flame that I will look forward to coming to London from Beijing, but also some of that same Olympic spirit and enthusiasm.
"Like China, the UK wants to ensure that there is a domestic and international legacy to our Games. Our own approach will place particular emphasis on making 2012 the greenest and most sustainable games ever."
During his five-day visit the Minister spent the first three days in Shanghai, where he attended a number of Expo-related activities. These included the launch of the Foreign Office's Law and Justice Week, which aims to help China develop a stronger rule of law and a more independent judiciary.
In Beijing, the Minister attended a Leadership Forum under the theme "China-UK Partnership in a Post-Crisis World" where he saw Vice Foreign Minister Fu Ying and other government Ministers. He was also meeting influential Chinese academics to discuss South East Asia security issues at a South East Asia Round table.
Published 13 September 2010