Press release
Minister for the Middle East Tobias Ellwood comments on delivery of aid to Madaya
Minister for the Middle East Tobias Ellwood has commented on the long-overdue delivery of aid to civilians in Madaya.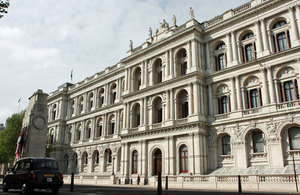 Foreign Office Minister Tobias Ellwood said:
I am deeply relieved by the delivery of life-saving food and aid supplies to Madaya. Although long overdue, these supplies will help relieve the suffering of 40,000 civilians besieged within the city.

The UN Security Council is clear that the use of starvation of civilians as a method of combat, including the besiegement of populated areas, is unacceptable. But last year just 10 per cent of UN convoy requests to besieged areas were approved by the Asad regime. The International Community must do all it can to pressure the Asad regime to lift sieges in place across Syria and sustain humanitarian access.

The UK is at the forefront of global efforts to provide humanitarian aid having committed over £1.1bn to vulnerable and displaced people inside Syria and to refugees in neighbouring countries. In February we will bring together world leaders in London to identify long-term solutions to help address the needs of those affected by the crisis.
Further information
Published 11 January 2016