Press release
Minister for the Middle East statement on the formation of a 'National Salvation Government' in Yemen
Tobias Ellwood expresses concern following the Houthi and Saleh alliance's announcement of a rival government to the legitimate government of Yemen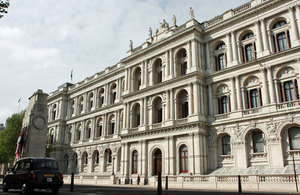 Speaking in response to developments in Yemen, Tobias Ellwood Minister for the Middle East commented:
I am very concerned by the continued steps being taken by the Houthi and Saleh alliance. The intention to unilaterally form a 'Salvation Government' is in direct defiance of the UN-facilitated peace process and undermines commitments made to finding a peaceful resolution to the conflict. The Yemeni parties must consult and work with the UN Special Envoy, Ismail Ould Cheikh Ahmed, in order to come to an agreement and return stability to the country.
Notes to editors
Yemen is now one of the most serious humanitarian crises in the world. 1/5th of the world's total population in need of humanitarian aid live in Yemen. 7 million are facing severe food shortages. Around 2.8 million people have been affected by displacement since March 2015 and basic services have been severely affected.
On 21st September Priti Patel announced an additional package of £37 million support to Yemen, which will bring the UK's total humanitarian funding for the crisis to £100 million this year. The UK is the 4th largest donor to the Yemen crisis.
The UK's key priority is to support the UN Special Envoy to Yemen, Ismail Ould Cheikh Ahmed, in facilitating a credible peace process in Yemen. Through the cross-government Conflict, Stability and Security Fund, we are providing £1.05 million (over 2 financial years) to the UN Special Envoy's office to bolster UN capacity to facilitate the peace process, and are also supporting work to broaden the dialogue to include women and other under-represented groups.
Further information
Published 3 October 2016