Press release
Minister for the Middle East statement on settlement units in East Jerusalem
Minister for the Middle East Tobias Ellwood condemns Israeli authorities' approving permits for constructing 181 new homes in Gilo, East Jerusalem.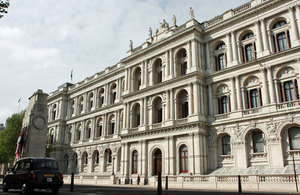 Foreign Office minister, Tobias Ellwood, said:
We condemn the recent announcement by the Israeli authorities to approve permits for constructing 181 new homes in the illegal settlement of Gilo in East Jerusalem. We are extremely disappointed that Israel has proceeded with approving permits despite the serious international concern and condemnation when these plans were first announced in 2012.

All settlements are illegal under international law. This announcement is the latest example of an accelerating systematic policy of illegal settlement expansion. It takes us further away from a two-state solution and raises serious questions about the Israeli government's commitment to achieving the shared vision of Israel living side-by -side a viable, independent, and contiguous Palestine state.
Further information
Published 3 November 2016