Minister for the Middle East meets Israeli Deputy Foreign Minister
Minister for the Middle East Alistair Burt met Israeli Deputy Foreign Minister to discuss restarting negotiations between Israel and the Palestinian Authority and the Iranian nuclear threat.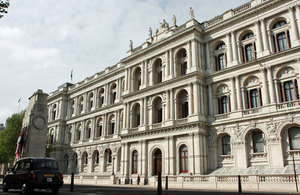 UK Minister for the Middle East Alistair Burt and Israel's Deputy Foreign Minister Danny Ayalon held a productive meeting at the home of British Ambassador to Israel Matthew Gould this evening. They discussed regional developments, including the latest events in Tunisia and Lebanon.
They also discussed the status of negotiations between Israel and the Palestinians and the need for both sides to restart talks at the earliest opportunity.
The ministers discussed shared concerns over the threat posed by Iran's attempts to obtain a nuclear weapons capability and the need for international cooperation to urgently address this and the ongoing battle against terrorism. Minister Burt updated Deputy Foreign Minister Ayalon on the united approach of the International Community as they approach talks in Istanbul later this week.
The Minister for the Middle East updated Deputy Minister Ayalon on the progress of the bill recently introduced into Parliament that will correct the anomaly in the law on universal jurisdiction and prevent groundless and politicized applications for arrest warrants against visiting officials, including those from Israel. Deputy Foreign Minister Ayalon thanked the British government for its stance against the BDS movement and called for a continuation of this policy.
The meeting is a further example of the breadth and intensity of bilateral relations between the UK and Israel. Minister Burt is in Israel on a five-day visit to the region, where he will also meet with Foreign Minister Avigdor Liberman and other senior Israeli officials. The ministers also discussed key elements of the bilateral relationship, including flourishing trade ties and new initiatives to strength academic and scientific links.
Speaking after the meeting Minister Burt said:
"Having visited Israel many times in the past, I am delighted to be visiting today for the first time as Minister for the Middle East to further strengthen the deep friendship between the UK and Israel. Deputy Minister Ayalon and I had productive meeting today that emphasized our close partnership on bilateral and regional issues. We discussed a range of things including the urgent need to find a way to move forward on the peace process."
Published 17 January 2011