Press release
Minister for Europe meets Georgian Foreign Minister for 'Wardrop' dialogue in London
David Lidington welcomes the opportunity to emphasise UK-Georgia relationship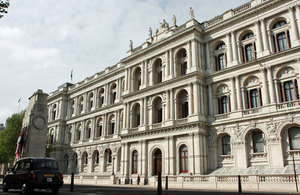 The Minister for Europe, David Lidington, and the Foreign Minister of Georgia, Giorgi Kvirikashvili, met in London today (30th November) for the second round of the high level UK-Georgia bilateral "Wardrop" Dialogue. The dialogue was addressed by David Lidington and the First Deputy Foreign Minister of Georgia, Mikheil Janelidze. Mr Kvirikashvili also met the Foreign Secretary Philip Hammond and Minister for Trade and Investment Lord Maude.
At the Wardrop Dialogue, the UK and Georgia held talks on a range of issues including regional developments, the European Neighbourhood Policy review, the launch of the UK's Good Governance Fund in Georgia, and defence and security issues. The two sides also discussed co-operation on crisis management, cyber security, combating crime and counter-terrorism.
Foreign Secretary Philip Hammond and Foreign Minister Kvirikashvili discussed UK support for Georgia's sovereignty and territorial integrity, its Euro-Atlantic aspirations, NATO and recent political developments in Georgia and the region. The Foreign Secretary reiterated UK support for Georgia as it works towards closer integration with the EU and NATO.
David Lidington said:
Georgia remains a key partner for the UK and I welcome the opportunity to highlight the UK's support for Georgia's Euro-Atlantic aspirations and programme of reforms. I am pleased that through initiatives such as the new Good Governance Fund, the UK is providing concrete support to help Georgia in its reform process on issues including judicial reform and the rule of law.
Notes to Editors
The UK-Georgia 'Wardrop' dialogue was established by former Foreign Secretary William Hague and former Georgian Foreign Minister Maia Panjikidze, during a visit to Tblisi in May 2014. It was named in memory of Britain's first Chief Commissioner to Georgia, Sir Oliver Wardrop.
The Good Governance Fund is a multi-year programme to provide expert advice, training and assistance to the governments of Georgia, Ukraine, Moldova, Serbia, and Bosnia Herzegovina.
Further information
Published 30 November 2015