News story
Minister for Europe concerned by arrests of human rights defenders in Turkey
Sir Alan Duncan urges Turkey to uphold international standards following the arrest of human rights defenders in Turkey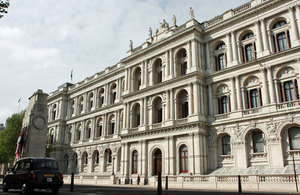 Following the arrest of 10 human rights defenders in Turkey on 6 July 2017, six of them remain in custody charged with helping a terror organisation. Idil Eser, Director of Amnesty International Turkey is among those being held. The organisation's chair, Taner Kılıç, was arrested a month ago.
Minister for Europe, Sir Alan Duncan, said:
I am very concerned by the arrest and remanding in custody of Amnesty International's Turkey Director Idil Eser and five other human rights defenders in Turkey. I also remain deeply concerned at the detention of Taner Kilic, Amnesty International's Turkey Chair.

Both the Prime Minister and the Foreign Secretary have raised these arrests in recent discussions with Turkish counterparts. We continue to urge the Turkish authorities to uphold international standards with regard to the rule of law, including the presumption of innocence, and to protect fundamental rights including freedom of expression and assembly.
Follow Foreign Office Minister Sir Alan Duncan on Twitter @AlanDuncanMP and Facebook
Follow the Foreign Office on Twitter @foreignoffice and Facebook
Follow the Foreign Office on Instagram, YouTube and LinkedIn
Published 19 July 2017