Press release
Minister for Africa welcomes South Sudan peace agreement
South Sudan's leaders must implement the peace agreement, end fighting and rebuild their country.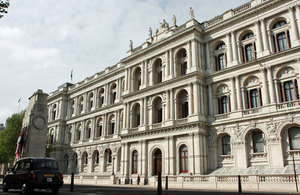 Speaking after President Kiir signed the peace agreement, already approved by the opposition and other South Sudanese parties, Minister for Africa Grant Shapps said:
I welcome President Kiir's decision to sign the peace agreement. Like the people of South Sudan we expect full implementation of the agreement without delay. We do not accept any statement or actions that undermine the agreement. Leaders from all sides must set aside their differences, enforce the permanent ceasefire and begin forming the new transitional government of national unity. The South Sudanese must take responsibility for implementing this ambitious agenda leading to elections in 2018.

I pay tribute to the vital role played by the Intergovernmental Authority on Development and the African Union in securing the agreement. Together with our regional and Troika partners, Norway and the US, we will continue to support the people of South Sudan. We will work with those who are committed to building a peaceful, revitalised and inclusive country, and take swift action against any who undermine the agreement.
Further information
Published 27 August 2015