Press release
Minister for Africa visits Bamako and Timbuktu
Mark Simmonds concludes successful two-day visit to meet new Malian government and key figures in the north.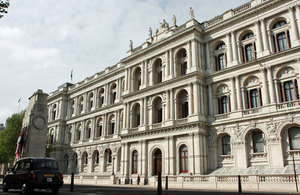 The Minister for Africa, Mark Simmonds visited Bamako and Timbuktu on 1-2 October 2013 for discussions with the new Malian government, and to gain first-hand knowledge of developments in northern Mali.
In Timbuktu, Mr Simmonds met local community leaders, NGO representatives, and the Grand Imam of the ancient Mosque of Djingareyber. The Minister also visited the Ahmed Baba Institute to witness the damage wreaked by jihadists upon Timbuktu's historic Islamic libraries during their occupation of the city, and was later briefed by UN agencies including WFP and UNOCHA on the important work they are doing to provide food security and resilience, supported by UK Aid. In Bamako, he met the new Malian Prime Minister, the Minister for the North and Reconciliation, and the Minister for Urbanisation. He also received a briefing from the Commanding Officer of the EU Training Mission, which is helping to rebuild the Malian Army.
Following his meetings, the Minister said:
While significant challenges undoubtedly remain, security progress allowed me to be the first UK Minister to visit northern Mali since the recent conflict. I have seen at first-hand the destruction done to Timbuktu's ancient monuments, which is an incalculable loss to the world's heritage. It is remarkable that just a year ago, the black flag of Al-Qaeda flew in that city. I also had the chance to see the excellent work that the World Food Programme is doing with strong support from the UK. The humanitarian situation in northern Mali remains serious, and the weekend's suicide attack against a Malian army base in Timbuktu shows that there are still acute security challenges. But I was encouraged both by the commitment to dialogue and reconciliation that is being shown by the Timbuktu community under difficult circumstances, and by the productive discussions that I had with members of the new government in Bamako. I hope that by working together, different communities in Mali can build long-term peace and stability. The UK will remain closely involved with the people of Mali, and with our allies working in the wider region.
Further information
Follow Foreign Office Minister Mark Simmonds on twitter @MarkJSimmonds
Follow the Foreign Office on twitter @foreignoffice
Follow the Foreign Office on facebook and Google+
Published 3 October 2013