Press release
Minister for Africa urges respect for Gambian election results
Tobias Ellwood, Minister for Africa, calls on President Jammeh to respect the will of the Gambian people.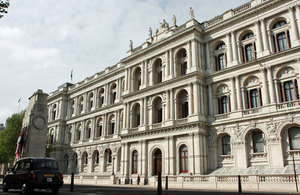 Tobias Ellwood, Minister for Africa, said:
I remain deeply concerned by President Jammeh's rejection of The Gambia's election result, and strongly condemn any attempt to overturn the result or to disrupt the peaceful, constitutional transfer of power. In particular I am alarmed by Gambian security forces' occupation of the offices of the Independent Electoral Commission.

I welcome the clear, unified statement of the UN Security Council on 10 December calling for the results to be respected, as well as the efforts of Presidents Buhari, Koroma, Johnson Sirleaf and Mahama, to impress on President Jammeh the need to respect the will of the people and ensure a peaceful handover of power to President-elect Barrow. I call on President Jammeh to move swiftly to abide by the result of The Gambia's free and fair elections.
Further information
Published 14 December 2016