Press release
Minister for Africa to join Nigerian centenary celebrations
Minister for Africa arrives in Nigeria today for visit to Lagos, Port Harcourt and Abuja, where he'll join the centenary celebrations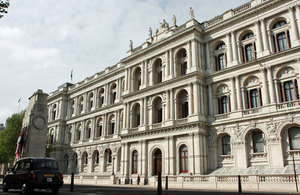 Mark Simmonds will visit Nigeria this week, his second visit as Minister for Africa. He will join President Goodluck Jonathan and other dignitaries to celebrate 100 years of the creation of Nigeria as a nation.
At the centenary event Minister Simmonds will deliver a keynote speech in which he will address the potential for Africa and Nigeria's future. "African choices in a new Nigerian century" will be the first of four speeches on the UK's relationship with Africa that Mark Simmonds plans over the next few months.
His four day programme will also include a visit to Lagos, where he will meet Governor Fashola, and he will also visit British business at Port Harcourt to discuss opportunities and challenges in the Niger Delta.
Speaking ahead of the visit Mr Simmonds said:
I am excited to be making my second visit to Nigeria and I am looking forward to representing the British Government at the 100 years celebrations. I bring with me the best wishes of the British people, including a message from Her Majesty Queen Elizabeth.
Further information
Follow Foreign Office Minister Mark Simmonds on twitter @MarkJSimmonds
Follow the Foreign Office on twitter @foreignoffice
Follow the Foreign Office on facebook and Google+
Published 24 February 2014