Press release
Minister for Africa statement on the political situation in DRC
Tobias Ellwood, Minister for Africa, calls for swift elections in the Democratic Republic of Congo.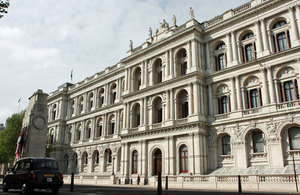 Commenting on the last day of President Kabila's constitutional mandate, the Minister for Africa, Tobias Ellwood, said:
I am deeply disappointed that elections did not take place in the Democratic Republic of Congo (DRC) in 2016. The UK and our international partners have been clear that President Kabila and his government bear primary responsibility for this.

Without an inclusive political agreement which states that President Kabila may continue in power beyond the end of his mandate today, his legitimacy to govern the Congo is reduced. As long as there is no such agreement, the UK's relationship with the Congolese government will regrettably have to change.

I support the ongoing political dialogue and encourage all parties to urgently reach an agreement which paves the way for Presidential and legislative elections in 2017. I also encourage President Kabila to be clear that he will neither seek a further term in office nor change the constitution.

At a time when the attention of the world is focused on DRC, I urge all parties to refrain from violence and repression against the Congolese people. Individuals involved will be held personally responsible for their actions. I also look to the UN peacekeeping operation in DRC to do everything they can to protect civilians.

The UK's commitment to the Congolese people will remain undimmed and we will continue to provide support to those in most need.
Further information
Published 19 December 2016