Press release
Minister for Africa shocked by murder of Cameroon human rights defender
Minister for Africa Mark Simmonds urges authorities in Cameroon to fully investigate the murder of human rights defender.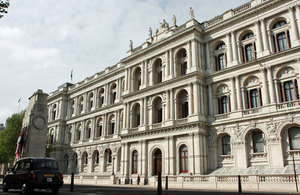 Following the murder of Eric Lembembe, human rights activist and Executive Director of the Cameroonian Foundation for Aids, Minister for Africa Mark Simmonds said:
I was shocked to hear of the brutal killing of Cameroon human rights defender Eric Lembembe, who was a brave and tireless campaigner. The authorities in Cameroon must fully investigate this hideous crime and bring the perpetrators to justice. It is vital that the authorities in Cameroon ensure the safety of human rights defenders by protecting those who are threatened, and prosecuting those who threaten them.
Further information
Follow Foreign Office Minister Mark Simmonds on twitter @MarkJSimmonds
Follow the Foreign Office on twitter @foreignoffice
Follow the Foreign Office on facebook and Google+
Subscribe to the announcements feed or email alerts to get our latest news and announcements.
Published 18 July 2013