Minister for Africa highlights opportunities in Angola
"This Government is committed to strengthening bilateral trade relations with Angola, and to ensuring that we have the right foundations that enable sustainable growth and development."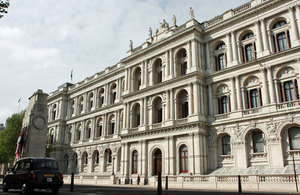 Following a recent visit to Angola in December, Minister for Africa Henry Bellingham met a number of British business representatives on wednesday 9 February to discuss his findings and to highlight the real opportunities available in this southern African market.
The event, jointly organised by the FCO and UK Trade & Investment and included presentations from Alex Vines, Director of Regional and Security Studies at Chatham House; Sandy Burrell Technical Director at URS/Scott Wilson and Karen Neal, Head of UKTI in Angola. The event will also provide attended by representatives from Standard Chartered, Diageo, Crown Agents, Elite International Careers and Mott McDonald.
FCO Minister Henry Bellingham said:
"This Government is committed to strengthening bilateral trade relations with Angola, and to ensuring that we have the right foundations that enable sustainable growth and development."
"I visited Angola last December and was incredibly impressed with the many opportunities that exist for UK business, particularly in vocational skills, energy, infrastructure and education sectors. British companies that want to grow their business on African soil should seriously consider this market. The potential here is rich and plentiful."
Published 14 February 2011