Press release
Minister for Africa condemns continued attacks on civilians in Darfur
Escalation of violence in Darfur, Sudan, leads to displacement of hundreds of thousands civilians.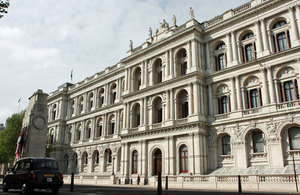 Following a sharp increase in violence in Darfur in 2014, Minister for Africa Mark Simmonds condemns attacks on civilians and calls for an immediate cessation of violence:
I am extremely worried by the continuation of violence in Darfur. Since the start of March, the number of those newly displaced from their homes has increased from 40,000 to around 200,000. This is due to the continued, deliberate attacks on defenceless civilians and their villages by both elements belonging to the Government of Sudan and Darfuri armed opposition movements. I condemn these tactics in the strongest possible terms.

There can never be a military solution to the conflict in Darfur; a resolution can only be brought about by political means. I urge all those involved in the conflict to lay down their arms and to engage in peaceful dialogue.
Further information
Follow Foreign Office Minister Mark Simmonds on twitter @MarkJSimmonds
Follow the Foreign Office on twitter @foreignoffice
Follow the Foreign Office on facebook and Google+
Published 7 April 2014