Minister for Africa condemns bomb attacks in Mogadishu
Minister for Africa Mark Simmonds condemned the attacks on a hotel in Mogadishu where the President of Somalia and Kenyan Foreign Minister were staying.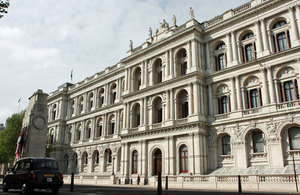 "I strongly condemn today's attacks in Mogadishu on a hotel where the new President of Somalia, Hassan Sheikh Mohamud, and Kenyan Foreign Minister Sam Ongeri were meeting. This was an appalling attack only days after Somalia's first successful elections in decades - an election that has received widespread popular support in Somalia and around the world. My thoughts are with the families of the victims and those injured. We commend the ongoing commitment and bravery of African Union and Somali National forces who are working to bring peace and stability to Somalia.
"This unsuccessful attempt to disrupt the new political process in Somalia once again demonstrates the perpetrators' desire to prolong violence and instability in the country and their complete disregard for the Somali people's desire for change and progress. These attacks only strengthen our resolve to continue supporting the progress the Somali people are making towards peace and security after 21 years of suffering."
Published 12 September 2012