Minister for Africa concerned by violence in Tana River District, Kenya
Minister for Africa Mark Simmonds has spoken after more than 100 people have been killed in violent clashes in the Tana River District in the last three weeks.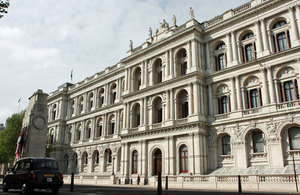 "I am deeply concerned by reports of continued violent clashes in Kenya's Tana River District that have killed over one hundred people in the past three weeks. My thoughts and condolences go out to the families and friends of those affected. I call upon all parties to the conflict to lay down their arms and I welcome ongoing mediation efforts.
"I also urge the Government of Kenya to ensure that those responsible are held accountable.
"It is clear that, in addition to an effective and proportionate security response, the underlying grievances behind this horrific violence must be properly addressed. The UK will continue to support the Government of Kenya's efforts to prevent conflict at national and provincial levels."
Published 12 September 2012