News story
Minister for Africa comments on death of Paramount Chief in Abyei
Mark Simmonds: there must be restraint after killing of Paramount Chief and peacekeeper in Abyei. Status of Abyei must be resolved.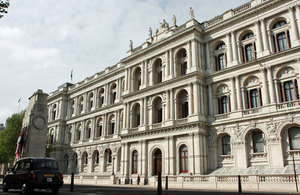 UK Minister for Africa Mark Simmonds said:
"I am very concerned to hear of the attack in Abyei on a group being escorted by peacekeepers from United Nations Interim Security Force for Abyei (UNISFA), which led to the deaths of the Paramount Chief of the Ngok Dinka Deng Kuol Deng and an Ethiopian peacekeeper. I extend my condolences to the families of those killed and injured, to the Government of Ethiopia and the Ngok Dinka people.
"I urge all communities in Abyei now to show restraint. This incident highlights the urgent need for the Governments of Sudan and South Sudan to implement agreements establishing interim institutions without further delay, and to make progress towards determining Abyei's final status."
Further information
Follow @foreignoffice on twitter
Published 5 May 2013