Press release
Minister Ellwood marks second anniversary of chemical attacks in Ghouta, Syria
Tobias Ellwood remembers those affected in the Assad regime's attack in Ghouta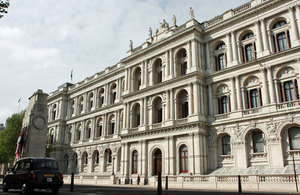 On the second anniversary of the Assad regime's chemical weapon attack on the innocent people of Ghouta, Syria, Minister for the Middle East Tobias Ellwood remembers those affected and reiterates the need for Assad and his regime to stop these terrible attacks.
Minister Ellwood said:
Today marks the second anniversary of the Assad regime's despicable chemical weapons attacks on the people of Ghouta, a suburb of Damascus in Syria which killed hundreds of innocent civilians. Since then Assad's declared chemical weapons stockpile and production facilities have been destroyed. But we remain very concerned about credible allegations that toxic industrial chemicals, especially Chlorine, continue to be used as weapons by the Assad regime, particularly to target civilians.

The recently agreed UN Security Council Resolution on the attribution of use of chemical weapons provides the international community, for the first time, with a tool to determine who was responsible for these attacks and bring perpetrators to account. The UK is working hard to support this.

We should also not lose sight of terrible suffering inflicted by Assad every day on his own people through the indiscriminate use of conventional weapons, particularly barrel bombs. Only this week his forces bombed a market in Douma, close to where the Ghouta attacks took place, indiscriminately killing over a hundred people. Assad and his backers have an obligation to bring these attacks to an end and to stop targeting civilians.
Further information
Published 21 August 2015